I HARP COMPETITION OF MICRO THEATER TEXTS
The 1st farce of micro theater texts that promotes Edicions Aillades is on, open to all people over 16 years. Did you know that this year 2021 is the International Year of Fruits and Vegetables?. That is why the theme of the texts must be based on fruits and vegetables ...
This literary contest has been launched with the aim of promoting the creation of scenic texts of short pieces between playwrights and playwrights, both beginners and professionals, in the field of the Catalan Countries. En las bases de la convocatoria se regula la selección de los guiones teatrales de les piezas breves que serán recogidas en un volumen de la Col·collection fARSA de dramatúrgia of Edicions Aillades.
The event was presented in the Plaça del Llibre in Valencia by the prestigious playwright Manuel Molins and also in the Catalan Book Week in Palma, with theater expert Carles Cabrera, both accompanied by the editor Ramon Mayol. The intention was to continue the presentations also in Barcelona and in other Catalan-speaking places, but the latest news related to Covid-19 have not made it possible and for this reason the deadline to send the texts is extended.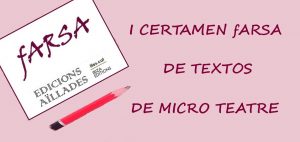 The contest was born with a vocation of continuity, biannual, abierto a la incorporación de patrocinadores y en esta primera edición the theme of the work revolves around fruits and vegetables. With this proposal we adhere to the commemoration of the resolution of the UN General Assembly that designates the year 2021 as the International Year of Fruits and Vegetables.
The pieces must be able to be represented in a small format by a maximum of three actors and will last no longer than the 15 minutes. Los textos de los dramaturgos y de las dramaturgas seleccionados serán premiados con la publicación en la col·collection fARSA de dramatúrgia of the seal Edicions Aillades. In addition, the best job will have an economic endowment of 300 EUR. The jury may select a maximum of thirteen works.
Everybody, older than 16 years, que deseen participar en esta convocatoria deberán enviar sus trabajos a través del correo electrónicO a illes@illes.cat El jurado estará integrado por profesionales de las artes escénicas propuesto por Edicions Aïllades y su dictamen, final, the day will be made public 15 April of 2021 a través de la Plataforma literaria www.illes.cat y de una nota de prensa.
RULES OF THE 1st MICRO THEATER TEXT CONTEST
#Year International Fruits and Vegetables
#farce
#FBvGÖZ
Do you want to know the Ibiza culture and leisure agenda?
Ibiza-Click.com
IBIZA'S MOST VISITED CULTURE AND LEISURE SITE
El I concurso fARSA de textos de micro teatro que promueve Edicions Aïllades está en marcha, open to all people over 16 years. Did you know that this year 2021 es el Año…