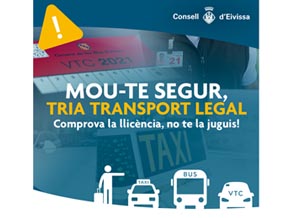 'Move safely, choose legal transportation' es el lema de la campaña que se ha puesto en marcha desde el Departamento de Transportes del Consell Insular d'Eivissa con la intención de luchar contra el intrusismo en el sector.
The campaign 'Move safely, choose legal transportation' has made a video available in three languages: English, Catalan and Spanish and is shared on the social networks of the insular institution. The objective of this initiative is to offer citizens information about the legal transport options available to them to move around the island.. For this reason, The video will be broadcast on the screens of shipping companies' boats and on those of the Ibiza airport and will be distributed among the media, companies of the sector and institutions to obtain a greater diffusion.
In the same way, in parallel to the campaign 'Move safely, choose legal transport ', The Department of Transport has also renewed the jail on public transport at Ibiza airport. In this way, people who arrive in Eivissa have information on bus and taxi services as soon as they land on the island.
Do you want to know the Ibiza culture and leisure agenda?
Ibiza-Click.com
IBIZA'S MOST VISITED CULTURE AND LEISURE SITE
'Move safely, choose legal transportation' es el lema de la campaña que se ha puesto en marcha desde el Departamento de Transportes del Consell Insular d'Eivissa con la intención de…