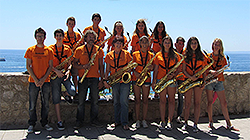 The Municipal music of the city of Ibiza, in collaboration with the Foundation Vicente Ferrer offers two concerts this weekend in order to raise funds for the construction of a school in India.
Saturday 26 May, at 13:00 hrs., on Paseo de Vara de Rey Ibiza, grouping Ensemble of saxophones School board of trustees of music acts for the benefit of the Vicente Ferrer Foundation. This concert is part of a project of students of 4th of ESO IES sa Blancadona within the project ICAPE (Integral Plan to promote entrepreneurial skills). The project, in collaboration with the Vicente Ferrer Association, is the creation of an NGO own to raise money and help build a school in India, and to achieve this is one of the activities organized.

Sunday 27 May, at 12:00 hrs., Celestino Sánchez in the park (in the neighborhood of Talamanca), there will be a concert Ibiza Town Big Band directed by Vicent Tur.
Ibiza-Click.com
IBIZA'S MOST VISITED CULTURE AND LEISURE SITE
The Municipal music of the city of Ibiza, en colaboración de la Fundación Vicente Ferrer ofrece dos conciertos este fin de semana con el objetivo de recaudar fondos…