NEW STANDARD IN DALT VILA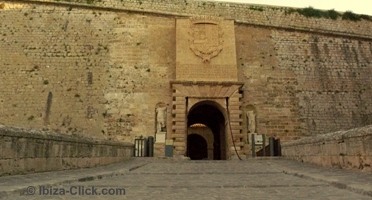 The Madina Yabisa Interpretation Center and the Sant Jaume bastion reopen from Tuesday 23 June to the public with security measures adapted to the new normal and after their facilities have been disinfected.

The Marina Yabisa museum space is a model of a new generation interpretation center, which is fundamentally committed to audiovisual technology to transmit knowledge of the history of the city and particularly all that refers to the Islamic period and the Arab fortification.
The center is located in the Cúria building, built during the XIV-XV centuries, taking advantage of structural elements of the old Arab wall. The restoration carried out in this space recovers the memory of the old medina. Now, offers its visitors a renewed image, since this time in which the circumstances did not allow its opening has been taken advantage of, to carry out some maintenance and painting of the interior of the building. For greater security, the curtain that gave access to the audiovisual model of the center has been replaced by a sliding wooden panel. One of the facilities workers will be permanently in the room, that will control that the capacity does not exceed five people and that will be in charge of pressing the button for the operation of the model. Another person, will be at the entrance counter to the center to receive tourists. Signage has also been placed at the entrance and exit of the museum center, to favor the route in a linear way that prevents visitors from having to cross each other.
As for the Sant Jaume bastion, that inside features elements of military technology from the 16th to the 18th centuries, you will not be allowed to touch any of the elements. The main artillery pieces that covered large spaces with their crossfire were located in the casemates of the bastions.. Cannons are exhibited in this space, a heavy mortar, carabiners, swords, helmets and corsets that visitors can put on.
Ibiza-Click.com
IBIZA'S MOST VISITED CULTURE AND LEISURE SITE
The Madina Yabisa Interpretation Center and the Sant Jaume bastion reopen from Tuesday 23 de junio al público con medidas de seguridad adaptadas a la nueva normalidad…