BLUES NIGHT AT IBIZA THEATER WITH JOSÉ LUIS PARDO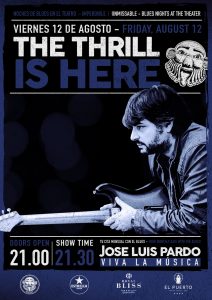 The Teatro Ibiza concert hall presents the third date of the cycle "The Thrill is Here", which brings in concert some of the best blues musicians in the country, the appointment this time is with José Luis Pardo.
The Teatro Ibiza concert hall programs the third session of its cycle "The Thrill is Here", concerts with great artists from the national blues circuit that are held once a month. The cycle has already featured performances by Martín Burguez on 2 of June and the Asturian musician Luis Fuente "El Incredible Metallic Bird" on 15 July of 2022.
The third musical performance of the cycle is scheduled for Friday 12 in August of 2022 at 21.00 hours with the bluesman José Luis Pardo, an artist with a long career in the scene that has made him tour half the world.
This Argentine musician is one of the few non-Anglo-Saxon artists who move comfortably around the international blues circuit. With your personal project, has toured around the world and has also accompanied a wide variety of artists from the United States, among which Corey Harris stands out, Bob Margolin, Tail Dragger, Michael Burkso and Vasti Jackson. Pardo has released a dozen albums, is the director of the School of Blues in Madrid and also, produces albums and tours through his production company Blues R Us.
The 'The Thrill is Here' initiative arises from a collaboration between Juangui Harmsen, head of Theater Ibiza, and drummer David Barona, habitual in the circuit of concerts of the island, which is responsible for co-producing the cycle.
Concert Jose Luis Pardo
Ciclo The Thrill is Here
Friday 12 in August of 2022
21.00 hrs.
Theater Ibiza
Carrer de Carles III 24, 07800, Ibiza
Do you want to know the Ibiza culture and leisure agenda?
Ibiza-Click.com
IBIZA'S MOST VISITED CULTURE AND LEISURE SITE
The Teatro Ibiza concert hall presents the third date of the cycle "The Thrill is Here", which brings in concert some of the best blues musicians in the country,…