ONLY THE BEASTS AND WHITE ELEPHANT IN CINEMA A LA FRESCA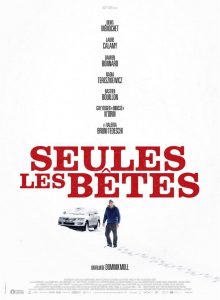 The Sant Josep City Council's Fresh Film cycle programs the film "only the beasts" the Friday 5 of August in Sant Josep and "White elephant" Saturday 6 August in Sant Jordi.
This week, the Fresh Film cycle organized by the Sant Josep City Council programs the films "only the beasts" and "White elephant".
The French film is shown in the Old Schools of Sant Josep "only the beasts" (2019) the Friday 5 in August of 2022 at 22.00 hrs., in original version subtitled in Spanish.
Directed by Dominic Moll, this claustrophobic thriller with a very elaborate story that fits like a perfect puzzle and in which some excellent performances stand out, tells us about the disappearance of a woman, whose car shows up on a remote road after a snowstorm.
The film was nominated for the César Awards for Best Supporting Actress. (Laure Calamy) and Adapted Screenplay and won the Audience Award and the Best Actress Award (Nadia Tereszkiewicz couple) at the Tokyo International Film Festival.
Saturday 6 in August of 2022 also to the 22.00 hours the square of the Church of Sant Jordi hosts a new projection within the cycle dedicated to the Argentine actor Ricardo Darín, with "White elephant" (2012).
Directed by Argentine filmmaker Pablo Trapero ("The Buenos Aires", "The stillness", "The clan") this Spanish-Argentine co-production tells the story of friendship between two priests, who after surviving an assassination attempt by the army settle in a neighborhood of Buenos Aires, where they will fight against corruption, confronting the ecclesiastical hierarchy and the governmental and police power, risking his life for the good of the neighbors.
a committed drama, with a great staging and outstanding performances that received eleven nominations at the Sur Awards (including Best Picture and Director) and won the Best Editing Award at the Havana Festival.
Both screenings are free.
Cinema a la Fresca in Sant Josep and Sant Jordi
Friday 5 and Saturday 6 in August of 2022
22.00 hrs.
Old Schools of Sant Josep and Plaza de la Iglesia de Sant Jordi
Artisans can participate for free
Do you want to know the Ibiza culture and leisure agenda?
Ibiza-Click.com
IBIZA'S MOST VISITED CULTURE AND LEISURE SITE
The Sant Josep City Council's Fresh Film cycle programs the film "only the beasts" the Friday 5 of August in Sant Josep and "White elephant" on…