SANTA OPERATION 5: THE QUARANTINE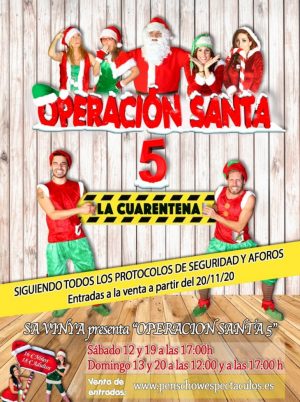 Christmas is coming and from Pen Show Shows they have prepared, once again, the colorful show for the whole family of the adventures of Santa Claus and his funny elves: Operation Santa 5: Quarantine
Although this year the North Pole is in quarantine and Christmas is threatened by this situation and by villains who, as always, they want to end her. But Santa and his elves will do everything possible to have a Christmas like all the others. Will they get it?
Come enjoy the music, the magic and the Christmas spirit with the show Operation Santa 5: Quarantine. The musical that you cannot miss at Christmas on the island of Ibiza. During the show, all security protocols against covid-19 are followed: Reduced capacity, safety distances, mandatory mask at all times, disinfection and temperature at the entrance ...
Musical
Operation Santa 5: Quarantine
Pen Show Shows
Saturdays 12 and 19 December of 2020
Sundays, 13 and 20 December of 2020-11-18
Schedule: 17:00 H.
Price: 18 euros adult entry and 16 euros children's ticket
Ticket sales at penshowespectaculos.es
Do you want to know the Ibiza culture and leisure agenda?
Ibiza-Click.com
IBIZA'S MOST VISITED CULTURE AND LEISURE SITE
Christmas is coming and from Pen Show Shows they have prepared, once again, the colorful show for the whole family of the adventures of Santa Claus and his funny…