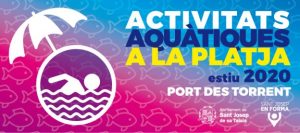 The activities that have been offered in the municipal swimming pools of Sant Josep move to the beach of Port des Torrent. The first programming, organized in five shifts, starts on monday, 22 June. The offer of activities that will be carried out both in the sand and in the water range from Aquagym to individualized training for competition levels. Hours are also included for the initiation of small swimmers, from the group of two to three years to those intended for children over six years.
Registrations to apply for a place open on Monday, 8 June. In each of the five shifts a class calendar has been organized from Monday to Saturday in different time zones adapted to each age, Since the 09:00 hours in the morning and until 20:00 hrs.. Each shift lasts two weeks with sessions ranging from 30 minutes for levels two to three years old and four to five years old for 45 minutes for the rest.
The price of each shift is the same, 18 EUR. Thus, children from two to three years old will participate in groups of two students accompanied by parents. In the following age group, four to five years, there will be up to four students per monitor, also accompanied by parents. In the rest of the levels, the ratio will rise to six students except in the case of Level II of adults., that can reach the eight swimmers.
Port des Torrent has been chosen for its level of endowments and the characteristics of this place, collected from the currents, that make it suitable for swimming. In addition to conventional classes, adapted to this natural environment, Users will be offered a technical advisory service to improve the style of each swimmer.; Future swimmers will be informed of the teaching process to motivate them to this practice.; advice on therapeutic measures will be given for people with different back pathologies, since exercise in the aquatic environment.
To be able to do the classes, safe circuits for swimmers in open water will be delimited and collective water classes will also be held as long as sanitary conditions allow.
Ibiza-Click.com
IBIZA'S MOST VISITED CULTURE AND LEISURE SITE
The activities that have been offered in the municipal swimming pools of Sant Josep move to the beach of Port des Torrent. The first programming, organized in five shifts,…