THE TEMPTATION IS PRESENTED IN THE PORT OF IBIZA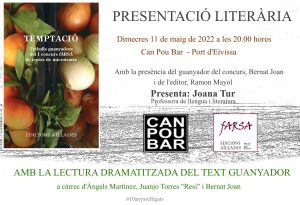 The book "Temptation", of Edicions Aillades, shows up on wednesday 11 May 2022 at the Can Pou Bar in the port of Ibiza with a fun dramatized reading of the winning bar play, what gives name to the volume.
The book "Temptation" is a selection of finalist texts from the first edition of the fARSA Contest of micro theater texts convened by Edicions Aïllades, that the Ibizan Bernat Joan won.
The works that appear collected in the book are:
-1 "Temptation", by Bernat Joan i Marí.
-2 "Christmas lunch at the Cirera house", by Maria Pujadas Salgado
-3 "Tomato juice", by Albert Fargas Bespin
-4 "I ara, what we do?", by Francesc Cutchet Domenech
-5 "For Roig. What a joke!", by Josep Joan i Marí, "Pep Xomeu"
-6 "potato, Patate", by Marià Torres Torres
-7 "poma", by Jaime Frances Martinez
-8 "Sex-Hort", by Manuel Perez Alegre
-9 "Good friends", by Alvaro Hernandez Vallejo
-10 "Another apple", by Manuel Molins i Casaña, this last text, out of competition, because the Valencian playwright acted as godfather of the contest.
It is already underway second call for the contest of micro theater texts in catalan, whose winning and finalist texts will also be published in a second volume of the fARSA collection of Edicions Aïllades.
The presentation of "Temptation" It's on Wednesday 11 May 2022 at 20 hours at the Can Pou Bar in the port of Ibiza, and will have the presence of the author of the winning text, Bernat Joan and the editor, Ramón Mayol. The language and literature teacher Joana Tur will be in charge of the presentation.
In addition, the actress and theater director Àngels Martínez, the actor Juanjo Torres "Resi" and Bernat Joan himself will offer a dramatized reading of "Temptation" where in the middle of the Garden of Eden, a banana, an apple and a prickly pear have to solve, in five short scenes, their differences.
literary presentation
"The Temptation", of Edicions Aillades
Wednesday 11 May 2022
20 hrs.
Can The Well Bar, Port of Ibiza
Ibiza-Click.com
IBIZA'S MOST VISITED CULTURE AND LEISURE SITE
#15IbizaClick
Do you want to know the Ibiza culture and leisure agenda?
El libro "Temptació", of Edicions Aillades, shows up on wednesday 11 May 2022 en el Can Pou Bar del puerto de Ibiza con una divertida lectura dramatizada de…