Cineforum psychosis-IBIZA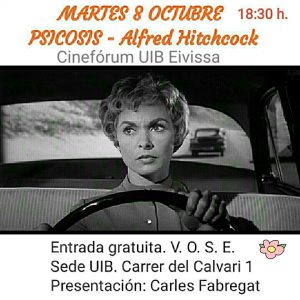 After the summer break, Cineforum-Ibiza nos invita a conocer las entrañas del aparentemente anodino Motel Bates, run by Norman (Anthony Perkins) and discover its Oedipal complex relationship. psychosis is, without a doubt, one of the best films of Alfred Hitchcock ... and film history.
For introduction, They have the multi-talented artist and cultural manager Carles Fabregat, film expert and psychoanalysis.
Psychosis, It projected in original version with subtitles in Castilian, It is a solid reference for film history and one of its most splendid jewels.
The story is wisely directed from all angles and is full of suspense and intrigue, the purest Hitchcock style. Some of its scenes are legendary and few films have penetrated both screens around the world like this. Es algo irrepetible y por más que pasen los años, Psychoses will survive and it is a manual what should be a great movie.
This psychological thriller tells how Marion Crane, a young secretary, after committing the theft of money in your company, flees the city and, after driving for hours, He decides to rest in a small, secluded roadside motel run by a shy young man named Norman Bates, who lives in the house next door with his mother ...
You can not miss the first event of this season Cineforum-Ibiza con Alfred Hitchcock
Cineforum Cycle-Ibiza
Psychosis
Alfred Hitchocock
UIB
Old building Command
Ibiza
Tuesday, 8 in October of 2019
18:30 hrs.
FREE ENTRANCE
Ibiza-Click.com
IBIZA'S MOST VISITED CULTURE AND LEISURE SITE
After the summer break, Cineforum-Eivissa nos invita a conocer las entrañas del aparentemente anodino Motel Bates, run by Norman (Anthony Perkins) and discover its Oedipal complex relationship. psychosis is,…