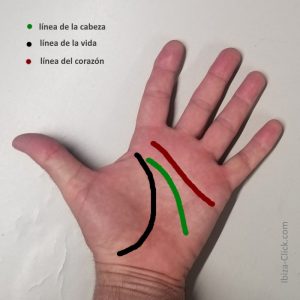 Palmistry is divination by reading the hand. Its origin dates back to antiquity and is presumed to have been practiced in China for 5000 years, and from there was taken to Greece where Aristotle wrote about this practice and in the 340 A.C.. and for several centuries was used by scientists as Paracelsus (Swiss doctor s.XVI).
But palmistry should not focus only on one hand, since it is necessary to review both, since each has its own characteristics. For right-handed people, la mano left represents the gifts que podríamos llamar innatos, algo a lo que uno está predestinado y la right use that have been given. La quiromancia concede a la mano dominante el significado del mundo adulto y a la mano pasiva el plano infantil anterior. Además de la palma, fingers also have their own meaning: They denote mind and are part of the three sections in which the hand is divided. The center of the hand represents the vitality and the lower half basic instincts.
Of course, like any esoteric practice, la quiromancia tiene muchas formas diferentes y puede ser muy complicada. Una lectura más extensa debe tener en cuenta las proporciones y longitudes de los dedos, the shape of the hand, etc. However, now let's stick to the basics, which it includes only the lines and the mountains of palms, we will discuss in another installment.
The best known for interpretation in the line is called quiromancia of the life. It does not indicate longevity, if long, or short-lived, si es poco extendida. Denota la fuerza y energía para sobrellevar las situaciones. Si tiene una tonalidad rojiza, may involve a tilt seductive.
The line of the head se asocia con la inteligencia pero también con el ego. Una gran capacidad intelectual se observa, in palmistry, cuando la línea es pronunciada. Las líneas rectas se observan en personas realistas y maduras, the most curves in individuals who have trouble concentrating.
The line of destiny puede tener diversos puntos de nacimiento y se interpreta como el grado del control que puede tener determinado individuo, regarding your destination. Greater control of destiny, It is expressed in a more marked line.
The esoteric corner
Ibiza-Clilck.com
IBIZA'S MOST VISITED CULTURE AND LEISURE SITE
Palmistry is divination by reading the hand. Su origen se remonta a la antigüedad y se presume que se ha practicado en China desde hace 5000…