RETROSPECTIVE OF CERAMIST TONIET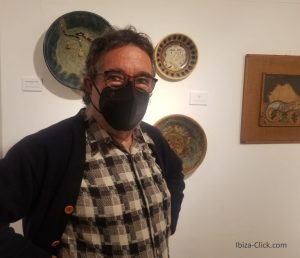 A retrospective exhibition of the Ibizan ceramist Antonio Ribas Costa, Toniet could be seen until 14 May at Sa Nostra Sala, in Ibiza. Under the title Paraules dins la terra collects the 50 years of experience of the artist.
Se trata de una recopilación de las obras de este ceramista, the most influential of the last decades with his most characteristic works carried out since 1971, a selection of pieces from the museum collection of the Museu Etnogràfic d'Eivissa, from the personal collection of the same artist and private collections.
The curator of the exhibition, Susana cardona, afirma que esta muestra permite al espectador disfrutar de las cinco décadas de trabajo de Toniet, analyzing its evolution "from a unique artist, representing Ibizan artisans, but that due to his creation process and the end of his works can be classified as an artist, not only craftsman, masterfully merging painting and sculpture"
On the other hand, Toniet thanked the Consell d'Eivissa for the initiative to carry out this exhibition that reflects part of her life as a ceramist "since I started working with a small piece of clay until now and I can see the evolution that I have made as an artist and as a teacher, always with the same illusion as when I started".
The sample can be visited in compliance with all the sanitary measures dictated by the protocols.
On the YouTube channel of the Eivisual production company you can see an audiovisual capsule recorded in the workplace of the ceramist Toniet, in Sant Jordi within the series 'Mestres artesans'.
Do you want to know the Ibiza culture and leisure agenda?
Ibiza-Click.com
IBIZA'S MOST VISITED CULTURE AND LEISURE SITE
A retrospective exhibition of the Ibizan ceramist Antonio Ribas Costa, Toniet could be seen until 14 May at Sa Nostra Sala, in Ibiza. Bajo el título Paraules dins la terra…