THE SEA AND THE ENVIRONMENT IN THE YACHT CLUB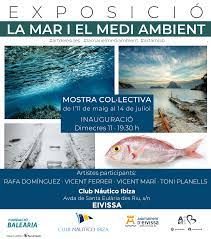 The Ibiza Yacht Club (CNI) has launched a new exhibition of images under the title 'El mar i el medi ambient', It is a collective exhibition that offers a personal vision of art and nature and that includes the participation of photographers Rafa Domínguez, Vicente Ferrer, Vicent Marí and Toni Planells. The works of these four professionals can be visited until next 14 July at the facilities of the insular nautical entity and are closely linked to the sea, the environment and the CNI itself.

Antoni Torres Martorell, curator of the exhibition affirms that "although all of them are well known on the island, rarely have we been able to enjoy his artistic photographs, so this is a unique opportunity to be able to recreate ourselves with his talent in the best context". Martorell underlines that "these four artists have the important influence of great photographers of the 20th century, from which they drink without losing its essence, luminosity and giving special prominence to the colors of our Mediterranean". Martorell has remembered, Finally, that with this new sample, from the Club Náutico de Ibiza want to "contribute to publicizing, once again, the works of the artists of the island, who often have difficulties to show their work".
This is the fifth exhibition offered by the Club Náutico de Ibiza and the 28 artists who have participated, the largest residents in Ibiza, although there have also been creators from other nearby corners with a common denominator: The Mediterranean Sea.
The exhibition will be open to the public until the next 14 July and can be visited between ten in the morning and ten at night from Monday to Sunday. As in the previous samples, This exhibition has the collaboration of the Balearia Foundation and the Cultural Association Art amb B.
Exhibition of photographs
'The sea and the environment
Ibiza Yacht Club
Until the 14 July of 2022.
Ibiza-Click.com
IBIZA'S MOST VISITED CULTURE AND LEISURE SITE
#15IbizaClick
Do you want to know the Ibiza culture and leisure agenda?
Click here
The Ibiza Yacht Club (CNI) has launched a new exhibition of images under the title 'El mar i el medi ambient', Se trata de una muestra colectiva…