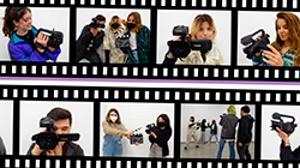 The VIII edition of 'Corto y Cambio de Rol is launched' organized by the Ibiza Town Hall, in collaboration with the Chiringuito Teatro y Comunidad. It is a project of social theater and audiovisual creation with a feminist perspective aimed at young people between 14 and 18 years of the different municipalities of Ibiza that begins on 7 October.
Registration for this activity is free and is financed by the credits received by the Government of the Balearic Islands, through the Balearic Institute for Women and by the Ministry of Equality, Secretary of State for Equality and Against Gender Violence .
This initiative aims to fight sexist behavior through different tools such as interpretation and audiovisual language.. The workshop will take place every Thursday from 17:00 to 19:00 hours at the C19 Youth Creation Center. To encourage participation, you can view, Through the YouTube channel of Corto y Cambio de Rol, the work done in the last editions of the course 2020-2021.
The central activity of 'Corto y Cambio de Rol' It is a training workshop in cinema, theater and gender equality, taught by professionals of the entity the Chiringuito Teatro y Comunidad. The workshop runs from October 2021 until June 2022 and the objective is to offer students the necessary tools to create theatrical scenes and audiovisual products with a gender perspective.
To end the course, the short films made by the students will be publicly presented to promote interaction between the people participating in the project and the community.. Para más información e inscripciones se puede contactar a través de los correos electrónicos elxiringuito.tc@gmail.com o unvideoun@gmail.com o mediante whatsapp al 654 419 056/625 888 484. The workshop will be held in compliance with the Covidien protection measures stipulated at all times..
Do you want to know the Ibiza culture and leisure agenda?
Ibiza-Click.com
IBIZA'S MOST VISITED CULTURE AND LEISURE SITE
The VIII edition of 'Corto y Cambio de Rol is launched' organized by the Ibiza Town Hall, in collaboration with the Chiringuito Teatro y Comunidad. It is of…