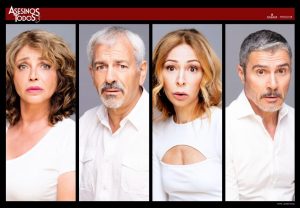 The play Asesinos todos is performed at the Can Ventosa Cultural Space, Ibiza, Saturday, 15 May. A comedy with Carlos Sobera who has chosen a text by Jordi Sánchez and Pep Antón Gómez to return to the stage.
Assassins all tell us how they make Manolo a vacuum at work. Or so he thinks. And his wife, Loli, sick of seeing him depressed and crying around the corners, it is clear to him. This can't go on like this. Something will have to be done. Pepe and Diana, intimate of Manolo and Loli, they don't believe their eyes. Pepe's mother has just returned from an IMSERSO trip. But accompanied. By a russian. Of 25 years. And what the Russian wants no one doubts: pluck the mother. And, on the way, to Pepe, The son. And the daughter-in-law, Diana. Or so they think. And Pepe and Diana have it clear. This can not be. Something will have to be done.
A night, Pepe, and Diana, and Loli and Manolo meet for dinner. And, between plate and plate, the idea comes up. "Strangers on a train". Because something will have to be done. "And you take care of Manolo's bosses and we take care of your Russian." And so, como quien no quiere la cosa, all the rages appear, and all the fears, and all the miseries. And they start the hellish mechanism. They summon the devil, yes. They awaken the beast that we all carry within. And, once awake, let's see who stops it. Because here, KILLERS ALL. Or else, whoever has not ever wanted to kill someone should throw the first stone ... Nobody, truth?
Besides Carlos Sobera, involved: Neus Asensi, Elisa Matilla and Ángel Pardo in a production of Arequipa Producciones y Pentación shows
Theatre
Killers all
Can Ventosa
Ibiza
Saturday, 15 May 2021
18:30 and 21:00 H
Ticket sales: culturaentradesonline.eivissa
Do you want to know the Ibiza culture and leisure agenda?
Ibiza-Click.com
The play Asesinos todos is performed at the Can Ventosa Cultural Space, Ibiza, Saturday, 15 May. Una comedia con Carlos Sobera que ha elegido un texto…