TERRITORI IBIZA PERFORMANCE ART FESTIVAL 2021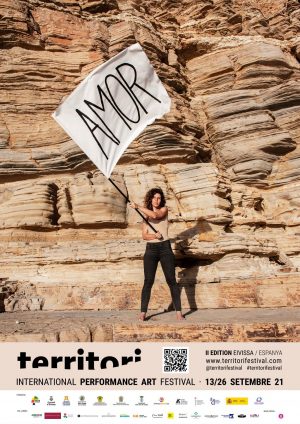 A new edition of Territori Ibiza Performance Art Festival has arrived, programming its second edition on the island, where he was born in the middle of a pandemic in September 2020. This year it has various programming and activities that will take place over two weeks and that invite you to get to know this art up close., with nationally and internationally recognized artists.
A part of the programming is exclusively Balearic and is conveyed through an open call to artists residing or born in Balearic territory.
Territori was born with the intention of being an annual international reference event in Art of Action with DO Eivissa and in this edition it has the support and sponsorship of the Department of Culture of all the town councils of the island, the Department of Equality of the Eivissa City Council, as well as the Insular Council of Ibiza and Ibiza Travel.
The festival is an independent project organized by the artist and curator Isa Sanz, Valladolid trained in Spain and England and settled in Ibiza since the year 2010. In his curatorial work, it is worth highlighting the Premio Estación Norte 2019 delivered by the jury of the Valladolid International Street Arts and Theater Festival: "For his accurate and refined selection of the most disturbing and beautiful proposals, capable of forging their own entity within the TAC ".
program-territori-festival-internacional-performance-art-ibiza-2021_Ibiza-Click
Do you want to know the Ibiza culture and leisure agenda?
Ibiza-Click.com
IBIZA'S MOST VISITED CULTURE AND LEISURE SITE
A new edition of Territori Ibiza Performance Art Festival has arrived, programming its second edition on the island, where he was born in the middle of a pandemic in September 2020. This year counts…