GUATEQUE IN THE Cineforum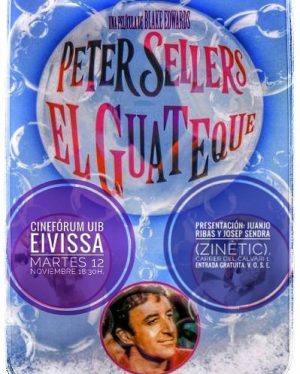 On Tuesday, 12 November, at 18:30 hours takes place a new session with the film Cinefórum the guateque. A comedy film in cinema, directed by Blake Edwards and starring Peter Sellers.
A great comedy where the gags that tells us how to succeed Hrundi V. Bakshi, one patoso an actor of Indian origin, It is filming a movie in the desert. For their continuous gaffes, It is fired from the shooting. Unexpectedly, receives an invitation to attend a party organized by sophisticated producer of his latest film. Thanks to Hrundi, at the party situations occur most crazy.
They feature Juanjo Ribas and Josep Sendra.
Cineforum
the guateque (VOSE)
Tuesday, 12 November of 2019
18:30 hrs.
UIB Ibiza
C / Calvary
Former Military Command
Free entrance.
Ibiza-Click.com
IBIZA'S MOST VISITED CULTURE AND LEISURE SITE
On Tuesday, 12 November, at 18:30 horas tiene lugar una nueva sesión de Cinefórum con el film El guateque. A comedy film in cinema, directed by…