THE DITCH IN THE PITIUSAS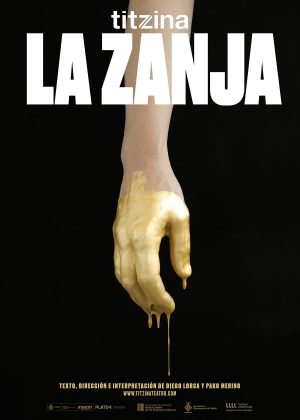 The ditch is a play by the Titzina Teatro company that comes to the Pitiusas in double session. The day 22 at 20:30 hours is represented at the Palau de Congressos de Ibiza, in Santa Eulària and on Saturday 24, also to the 20:30 hrs., in the Culture Room of Formentera.
La Zanja is, according to its creators, an own work «the result of a work of investigation and anthropological journalism by Pako Merino and Diego Lorca, who play dramatists, directors and performers ». In it, reflect "in a tragicomic key on the particular clash of civilizations between Europe and America and their collective history" through the history of Miguel, technician of a multinational mining company, that arrives at a company farm in South America where it has Alfredo, Mayor, and your community.
It is the fifth creation of the company and once again it is a work of tragicomic and minimalist works that talks about universal themes. Before they already did it with Dreams of a psychiatric hospital where they talked about madness; Entrails that war was about; y results, that addressed death.
Before launching this production Lorca and Merino carried out a great work of anthropological journalistic investigation, interviewing and living with the protagonists. They lived in Peru where they investigated "about a society polarized around the mining economy" and delved into the history of Francisco Pizarro and Atahualpa in 1532 «Which resulted in the beginning of the relationship between two hitherto unknown worlds: Europe and America ».
Theatre
The ditch
Thursday, 22 October.
20.30 hrs..
Ibiza Congress Center
Santa Eulalia
Tickets can be obtained by 15 EUR (management costs) on the webs santaeulariadesriu.com, festivalbarruguet.com y visitsantaeulalia.com a 20 euros at the show box office (one hour before the start). The work has an expected duration of 80 minutes and it is in Spanish.
Saturday 24 October
20.30 hrs.
Formentera Culture Room
Sant Francesc Xavier
Do you want to know the Ibiza culture and leisure agenda?
Ibiza-Click.com
IBIZA'S MOST VISITED CULTURE AND LEISURE SITE
La Zanja es una obra de teatro de la compañía Titzina Teatro que llega aima a las Pitiusas en doble sesión. The day 22 at 20:30 horas se representa…