DRONNINGEN ON CINEMA FRIDAYS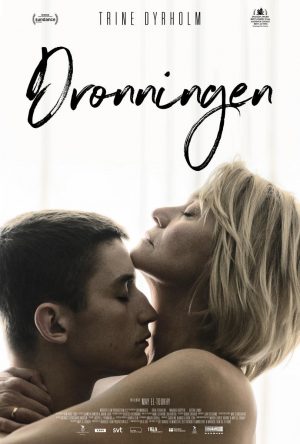 A psychological drama for the Friday film series: The queen (Queen of Hearts). An elegant Danish film directed by May el-Toukhy, interesting and devastating. The title refers to the novel Alice's Adventures in Wonderland, by Lewis Carroll and explores family secrets and domestic abuse from a different perspective.
The queen tells us the story of Annie (Trine Dyrholm), una exitosa abogada que vive en una casa de estilo modernista con sus dos hijas y su marido Peter, a reputed physicist. Gustav's appearance, a child belonging to Peter's previous relationship, turns the harmony that reigns in Annie's life upside down. What at first seems to be a liberating movement for her, soon turns into a story of power and betrayal that will have devastating consequences on your life.
The director
May el-Touk (Charlottenlund, 1977) es una directora de cine y guionista danesa. Obtuvo el Premio del Público en el Festival de Cine de Sundance en 2019 by Queen of Hearts.
El-Toukhy's film debut was in 2015 con una comedia romántica llamada A long short story. His script was a joint work of the director together with Mille Lehfeldt, con la participación de los actores Trine Dyrholm, Jens Albinus y Danica Curcic. Este largometraje ganó el Robert Award de la academia de cine danesa a la Mejor Actriz de Reparto, y dos Premios Bodil, for Best Screenplay and Best Supporting Actress. In 2016, fue galardonada con el Premio Nordisk Film, which includes a cash endowment of 110,000 Crowns.7​
His next feature film, Queen of Hearts, in which he collaborated with the same team, obtuvo el Premio del Público en el Festival de Cine de Sundance. ​​
Friday Film Series
The queen (Queen of Hearts
Friday, 30 April of 2021
Cultural Center Can Jeroni
Sant Josep de sa Talaia
It is essential to obtain a previous invitation:
entrades.santjosep.org/par-public/rest/evento/id/2687762
Do you want to know the Ibiza culture and leisure agenda?
Ibiza-Click.com
The culture and Ibiza most visited entertainment portal
A psychological drama for the Friday film series: The queen (Queen of Hearts). An elegant Danish film directed by May el-Toukhy, interesting and devastating. El título hace referencia a la…