THE WHITE CHURCHES OF IBIZA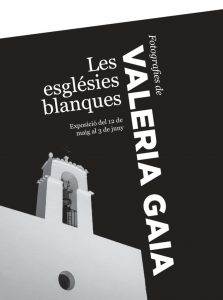 The photographic exhibition "L'esglésies blanques" can be visited in Sa Nostra Sala until 3 June. It is a collection of 50 images of the Italian photographer linked to Eivissa, Valeria Gaia, that capture the beauty of the churches of the island of Ibiza.
For the Minister of Culture, Sara Ramon, the photographs in this exhibition show us a different image of the churches, "sign of the Ibizan countryside". "Gaia looks for the details, play with the shadows, looks at the shapes… A look that reveals the beauty of white churches".
The author of the images, Valeria Gaia, was born in Treviso, Italy, and has been tied to Eivissa since 2002, when he fell in love with the island, in which you have found a life, as she explains, "Mediterranean serenity". From 2017, con el libro The Cities of Silence, the artist's photography has begun to engage in the memory of human cultural heritage, in which the sample that is now offered in Sa Nostra Sala is framed. Gaia has explained that she photographed 17 white churches of Ibiza at night and using black and white "because it is the way to enhance the white of its architecture, a construction that defines Eivissa, its culture and heritage".
photographic exhibition
The white churches
Valeria Gaia
Until the 3 June 2022
Monday to Friday
of 10.00 to 13.30 and 17.30 to 20.30 hrs.
Ibiza-Click.com
IBIZA'S MOST VISITED CULTURE AND LEISURE SITE
#15IbizaClick
Do you want to know the Ibiza culture and leisure agenda?
Click here
The photographic exhibition "L'esglésies blanques" can be visited in Sa Nostra Sala until 3 June. It is a collection of 50 images of the italian photographer…