THOSE WHO SPEAK IN CAN VENTOSA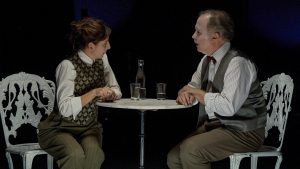 The Can Ventosa Cultural Space hosts the play Those who speak el Saturday 6 March to the 20 hrs.. It is a play directed by Pablo Rosal and performed by Luis Bermejo and Malena Alterio, where two characters, they enter the stage to talk to each other and reflect on what is this talking about.
Those who speak intends to rediscover, erased all tracks, la experiencia del personaje originario del escenario y resignificar la palabra con una inocencia nacida en el siglo XXI para resacralizarla en nuestro presente a través de una audacia extemporánea. Se trata de comprender realmente lo que es el silencio. Letting the talk die, get together for this and meet at the bottom, everybody, dumbed down.
Characters, that become molds, mannequins, para presentar al espectador seres preculturales, always fragile, on the tightrope, before getting to be someone. Show the suspended human, trembling. To strip him of that absurd security he has desperately obtained and gloriously witness his trials, your honest failures.
Theatre
Those who speak
Saturday 6 March of 2021
20 hrs.
Can Ventosa Cultural Space
Ibiza
Tickets are on sale in advance on the Eivissa.es website
Price: 18 euros and 20 euros at the Can Ventosa box office, the same day of the performance.
The event will have all current safety regulations. The distances between seats will be maintained and spectators must use the mask at all times. In addition, At the entrance to the center, the temperature of all attendees will be taken and they must use the hydroalcoholic gel for their hands that will be available to them.
Saturday, it's time to go to the theater, that Mars has already arrived
Do you want to know the Ibiza culture and leisure agenda?
Ibiza-Click.com
IBIZA'S MOST VISITED CULTURE AND LEISURE SITE
El Espacio Cultural de Can Ventosa acoge la obra de teatro Los que hablan el sábado 6 March to the 20 hrs.. Se trata de una obra dirigida por…