ATHLETICS: COSTA TONI CARRERA XXXVIII BALANZAT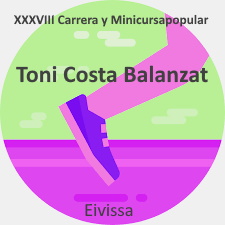 The XXXVIII Carrera and Minicursa popular Toni Costa Balanzat tiene on Sunday, 20 October in the streets of the city of Ibiza. The test is popular character and is open to anyone from the category 18U (born in 2002 before the), regardless of sex or nationality, whether or not federated
The race is organized by the Club d'atletisme Pitiús with the collaboration of the City of Ibiza. This is a test that can be done with family, enjoy sport and heritage, since the objective, according to the organization, is "doing a very participatory career, families with a tour where small begin to form in athletics, that will turn an entire s'Alamera; in the other categories you may already enjoy racing with a good level of competition with an affordable path and thus consolidate a heritage area of ​​the city of Eivissa".
an approximate distance will travel 5.000 meters and the exit will take place at 10.30 hours from the Paseo de Vara de Rey. It is estimated that traffic will be cut until 11.15 hrs., and the route is as follows: Vara de Rey (Serra old film output) – AV. Bartholomew Ramon i Tur – AV. of Andenes – AV. santa Eulalia – Paseo Juan Carlos I – c / ceramist Joan Daifa – AV. 8 August – AV. santa Eulalia – AV. of Andenes – c/ Obispo Cardona i Tur – c / Obispo Torres – Vara de Rey.
Las inscripciones se realizarán a través de la página elitechip.net y el plazo para apuntarse es hasta este jueves a las 21 hrs.. The registration fee is 5 euros and includes a safe day.
Before the race, at 10:00 hrs., It will be held the Minicursa Toni Costa Balanzat in which distance is run 400 -Categories meters Sub10, U12 and special- and 1000 U14 and U16 -Categories meters- within the Vara de Rey. Registration rules are the same.
Bibs and chips runners can collect only Vila Sports Board (Piscina Municipal Can Misses) on Friday 19:00 to 21:00 hours and Saturday 10:00 to 12:00 hrs..
Ibiza-Click.com
IBIZA'S MOST VISITED CULTURE AND LEISURE SITE
La XXXVIII Carrera y Minicursa popular Toni Costa Balanzat tiene lugar el domingo, 20 October in the streets of the city of Ibiza. La prueba es de carácter popular…