TRADITIONAL SUMMER VARIETIES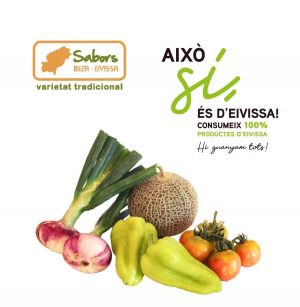 The traditional Ibizan summer varieties such as hedgehog melon, white pepper, The hanging tomato or the potato are the protagonists of a campaign promoted by the Consell d'Eivissa through a series of actions that takes place throughout the summer to recognize these varieties in shops and tastings of dishes made with these ingredients so valued from the Ibizan countryside.
In order to value the local seasonal product and make it easily recognized by the island's businesses, the island's markets host actions aimed at promoting summer products. In the presentation of this campaign, the chef of the restaurant Sa Nova Plaça prepared a salmorejo.
Actions to promote the local product promoted by the Consell, through the specific campaign 'This Yes is from Ibiza!', and the recovery programs for local varieties that are being carried out through the Leader Group "they already bear fruit", according to the organization and consumers are encouraged to make use of this promotional campaign to learn about these varieties and use them in the kitchen.
Do you want to know the Ibiza culture and leisure agenda?
Ibiza-Click.com
IBIZA'S MOST VISITED CULTURE AND LEISURE SITE
The traditional Ibizan summer varieties such as hedgehog melon, white pepper, el tomate de colgar o la patata son las protagonistas de una campaña impulsada por el Consell…