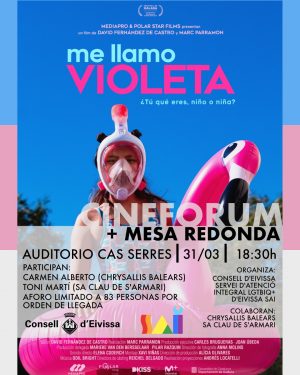 My Name is Violet is a transgender documentary directed by Anna Molins that is screened on Wednesday, 31 March in Cas Serres followed by a round table at an event organized by the LGTBIQ + comprehensive care service of the Consell d'Eivissa.
My name is violet portrays the times of intolerance and ignorance that we live. Tells how, at six years old, Ignacio told his parents: "I am a Girl, my name is Violeta ". Through the story of Violeta and her parents, and that of other young people and their families, We explore the complex transition these transgender boys and girls aspire to.
At the end of the screening there will be a round table with the participation of Carmen Alberto, of Chrysallis Balears and Toni Martí, of his Closet Key.
Cineforum
My name is violet
Cultural Center of Cas Serres
Ibiza
Wednesday, 31 March of 2021
18:30 hrs.
Free entrance
Limited capacity
Do you want to know the Ibiza culture and leisure agenda?
Ibiza-Click.com
IBIZA'S MOST VISITED CULTURE AND LEISURE SITE
My Name is Violet is a transgender documentary directed by Anna Molins that is screened on Wednesday, 31 de marzo en Cas Serres seguido de una mesa redonda en un acto…