WHITE LINES, MORE ABOUT THE UNLOCKED IBIZA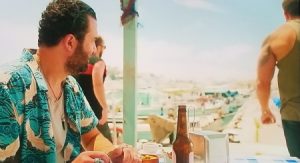 Ibiza is more than DJ, Pounding electronic "music", 'raves', budas, narcos, prostitutes ... A pity that they insist on giving the image of our beloved Ibiza distorted and full of clichés, This time, in a series shot off the island (although that is not new) and broadcast on one of the most projected platforms on the planet. For when a quality series or film that shows the real Ibiza, authentic?
It is not the first time that the name of Ibiza is used to sell movies or music that has little or nothing to do with the island.: The 'Turn uo Charlie' series, set in Ibiza but with most of the scenes recorded in Mallorca or the movie 'Ibiza', rodada en Zrće (Croatia), there are only two examples.
The white lines of cocaine ('White Lines') that give title to the series is quite a declaration of intent. It is not understood that its creator, Alex Pina ('The paper house', 'Sky Red', 'The jetty', "Vis a vis ...) propose this outlandish product and our institutions do not ensure that the image of our island falls again, over and over again in the same. The Ibiza brand falls back on false cliches thanks to this aberration.
A pity that so much talent, not only in the technical part, but in the cast it results in a series that has nothing to do with the real Ibiza. The production is shot in English and Spanish. Catalan hardly appears (it only does it in a folkloric way). The music that is made on the island (although unknown) it's not just electronics. The island has an international distinction granted by UNESCO in 1999 that recognizes the historical value, cultural and architectural of the best preserved coastal fortress in the Mediterranean. The acropolis of Dalt Vila is full of alleys or monuments such as the Castle or the Cathedral. It has the largest and best preserved necropolis in the world, home of the Goddess Tanit. museums, recitals, jazz festivals, of prestigious classical music. It has a privileged environment for its biodiversity and its natural values, especially the richness of the seagrass meadows, which are the best preserved in the Mediterranean ... Endless aspects that are not mentioned, not in passing, in this series.
Ibizasferio
Ibiza-Click.com
IBIZA'S MOST VISITED CULTURE AND LEISURE SITE
Ibiza is more than DJ, Pounding electronic "music", 'raves', budas, narcos, prostitutes ... A pity that they insist on giving the image of our beloved Ibiza distorted and full of clichés,…