WOMEN FOR PEACE AND DISARMAMENT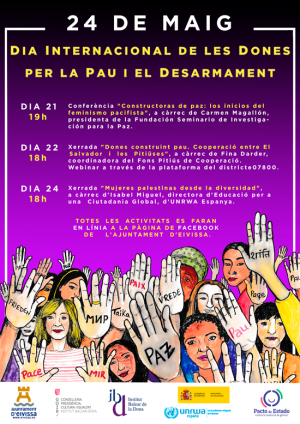 Since April 1915, in the middle of the First World War, will be held in The Hague on I World Congress of Women, thousands of women have worked for a Culture of Peace. From that date, numerous actors (civil society, governments, International organizations, etc.) have been joining the efforts of these pioneering women. International Women's Day for Peace and Disarmament held the 24 May.
From the Ibiza City Council various activities have been organized through social networks to celebrate the International Day of Women for Peace and Disarmament
The first of these activities take place on Thursday 21 May on the Facebook of the City Council of Ibiza, at 19:00 hrs.. La presidenta de la Fundación Seminario de Investigación por la Paz en España, Carmen Magallón, will speak about pacifist feminism at the conference "Builders of peace: The Beginnings of Pacifist Feminism".
For friday 22 May, the intervention of the coordinator of the Pitiús Cooperation Fund is planned, Fina Darder, que nos acercará, among other matters, the continuous struggle of the women of El Salvador to achieve a project of domiciliary drinking water in the area, where the lack of this basic right generates important problems for the community. Talk "Women building peace. Cooperation between El Salvador and the Pitiusas", which will be presented by the councilor for Equality, Claudia Cotaina can be followed live from 18:00 hours through the Campus of the platform districtte07800.es
The same sunday 24 May the last activity will take place. To the 18:00 hrs., Isabel Miguel, Director of Education for Global Citizenship, of UNRWA Spain, hablará sobre mujeres y feminismo en Palestina en la charla "Palestinian women from diversity". It will be through the Facebook page of the Ibiza Town Hall.
Ibiza-Click.com
IBIZA'S MOST VISITED CULTURE AND LEISURE SITE
Since April 1915, in the middle of the First World War, se celebrara en La Haya el I Congreso Mundial de Mujeres, miles de mujeres han trabajado en favor de una…