THE LATE BAND MOTIVATED FOR SAINT JOSEP'S DAY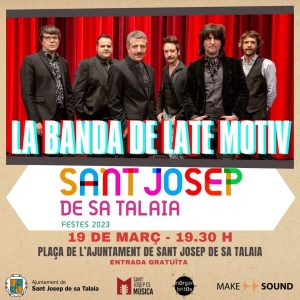 La Banda de Late Motiv actúa en el Día Grande de las Festes de Sant Josep el domingo 19 March of 2023 en la plaza del Ayuntamiento.
Sant Josep de sa Talaia celebra su Día Grande del programa de fiestas patronales el domingo 19 March of 2023 arrancando con una misa solemne a las 11.00 hrs..
Then, está programada una actuación del Grup Folklòric de Sant Josep y del Grupo Etnogràfico das Mariñas, que llega a la isla desde Ferrol. Durante las actuaciones se ofrecerá un vino de honor en la plaza.
Desde el mediodía, Jogueroix desplegará sus juegos gigantes de madera en los alrededores del Ayuntamiento y a las 13.30 horas se podrá disfrutar de un animado vermut musical con una actruación de Musicaires Swing Band.
In the afternoon, el programa continúa con el divertido espectáculo familiar Wooooow!' de la compañía La Churry.
And to the 19.30 horas llega el turno de uno de los platos fuertes del programa, el concierto de La Banda de Late Motiv, el programa de televisión de Andreu Buenafuente, un grupo integrado por músicos excepcionales liderados por Pablo Novoa (guitarra y director musical), con Litus (Guitar), Mac Hernández (under), Pirata (saxo y trompeta), Santiago Comet (teclados) y Cocke Santos (battery).
Diada de Sant Josep y concierto de la Banda de Late Motiv
Sunday 19 March of 2023
Starting from the 18.30 hrs.
Cas Vildo Parking
Sant Josep de sa Talaia
Artisans can participate for free
Do you want to know the Ibiza culture and leisure agenda?
Ibiza-Click.com
IBIZA'S MOST VISITED CULTURE AND LEISURE SITE
La Banda de Late Motiv actúa en el Día Grande de las Festes de Sant Josep el domingo 19 March of 2023 en la plaza del Ayuntamiento. San Jose…