ARRIVES IBIZACINEFEST 2019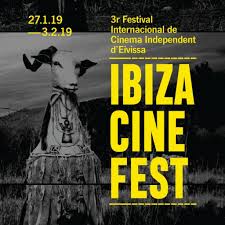 Sunday, 27 January, in Can Ventosa, Ibiza, begins the third edition of International Independent Film Festival in Ibiza (Ibizacinefest). An event with competitive sections feature films and documentary.
The festival begins with the documentary Moonface, where a woman in war reflects the life of the famous photographer Christine Spengler wars. To the 17:00 hours will open the locker, at 18:00 hours will be a performance of the company Theatre of the ancients, at 18:10 the manifesto of this edition will be read and the 18:30 It will screen the documentary.
But Ibizacinefest It has several sections: feature film, short film and animation. The latter category has been created this year and it will be seen The Dream Hatcher, Edge of alchemy, Pure white, Never, I am fine, Passage, Natasa Prosenc Stearns, Expend and 1960.
To decide the winners of this 2019 There are two juries. the Critics Award, formed by Elena Martinez Cineternamente; Jesus Fariña, creator and webmaster The best movies in film history, and Maria Abad, creator of the blog The Princess Bride, radio collaborator, film critic and member of the jury and young Feroz Awards at Cinema Jove festival.
On the other hand, the jury Ibizacinefest compose the visual artist, writer, Professor, screenwriter and film director Rosa Delgado; graphic designer and organizer cycle Ribas Juanjo Zinétic; the artist, titiritera, Audiovisual Ibiza presenter and founder of the company Theater of the Ancients, Joanna Hruby, and actor and acting teacher Angel Roldan.
Winners will receive their awards on Sunday, 3 February at Can Ventosa from the 22:30 hrs.. Before, Since the 17:30 hours will screen the winning ribbons: Your eyes (Animated Short); Hotel diary (experimental short); Born in Gambia (short documentary); Familylife (Documentary film); knight (national short); Diva & Astro (international short); and You go to my head (Feature film)
Ibizacinefest 2019 also has different sections, among which is the day on Thursday 31 January at the Teatro Santa Eulària Spain, where the relationship between refugees and Europe will address. In addition, Saturday 2 Cervantes February at the Cultural Center of Sant Antoni to 11:00 Javier Gutiérrez hours will discuss the low cost productions have been successful distribution; at 13:15 a panel discussion moderated by Rosa Delgado on Networking will be held and to 18:00 Ibizan hours filmmaker Enrique Villalonga give a lecture on The film shot in Ibiza in the sixties and its relation to tourism.
Ibiza-Click.com
IBIZA'S MOST VISITED CULTURE AND LEISURE SITE
Sunday, 27 January, in Can Ventosa, Ibiza, da inicio la tercera edición del Festival internacional de cinema independent d'Eivissa (Ibizacinefest). Un evento con secciones competitivas en largometrajes de…