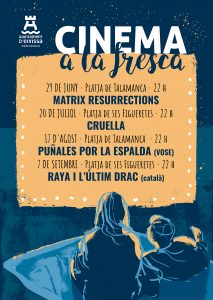 The Ibiza Town Hall organizes a new cycle of Cinema a la Fresca for this summer 2022.
The Department of Culture of the Ibiza Town Hall has announced for this summer that it is resuming the usual cycle of Cinema a la Fresca for each season and that in 2021 could not be done due to the pandemic.
The cycle will have four sessions on the beaches of the municipality, Talamanca and its Figueretes. The first film to be shown is "Matrix Ressurrections" on Wednesday 29 June 2022 Talamanca. The second projection is "Cruella" on Wednesday 20 of June in Figueretes. Then it's scheduled on Wednesday 17 august the movie "Puñales the back" in original version subtitled in Spanish, on the beach of Talamanca. Finally, on Wednesday 7 September can be seen "Stripe and the last dragon", in Catalan version, on the beach of ses Figueretes.
All sessions are at the 22 hours and they are free.
Cinema a la Freca
29 June, 20 July, 17 of August and 7 September of 2022
Beaches of Talamanca and Ses Figueretes
Artisans can participate for free
Do you want to know the Ibiza culture and leisure agenda?
Ibiza-Click.com
IBIZA'S MOST VISITED CULTURE AND LEISURE SITE
The Ibiza Town Hall organizes a new cycle of Cinema a la Fresca for this summer 2022. The Department of Culture of the Ibiza Town Hall has announced for this summer…