NIGHT OF SANT JOAN IN FIGUERETES AND TALAMANCA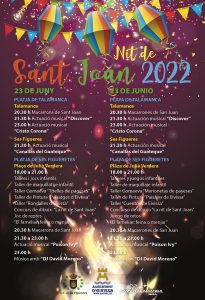 Vila City Council once again organizes the Nit de Sant Joan, with concerts, bonfires and tasting of traditional Sant Joan macaroni on the beaches of Ses Figueretes and Talamanca.
The beaches of Talamanca and ses Figueretes welcome again this year, and after the stoppage of the pandemic, the traditional festivities of the Nit de Sant Joan with music, tasting of the typical sweet of these dates, the macaroni of Sant Joan, the famous bonfires and games and workshops for children.
The program, organized by the Department of Festivals of the City Council, starts in ses Figueretes at 18.00 hours with workshops and children's games until 21.00 hrs., makeup workshops, crafts to make puppets, painting workshops, a drawing contest, a game of challenges and a workshop of rondalles (fables) Ibiza.
To the 20.30 hours there will be a tasting of Sant Joan macaroni, and at 21.30 hours concert by the Ibizan group Poison Ivy and then at 23.00 DJ David Moreno performance.
In Talamanca the Night of Sant Joan starts at 20.30 hours with macaroons tasting, seguida por un concierto a las 21.30 horas del grupo Discover y otra de Cisto Corona a las 23.00 hrs.. En la zona de ses Figueres, al final de la playa, está también prevista una actuación de Canallas del Guateque a las 21.30 hrs..
El concejal de Fiestas, Ricard Clivillé, ha declarado: 'este año hemos podido volver a elaborar un programa para celebrar la Nit de Sant Joan en el que hemos incluido actividades tradicionales y conciertos para todos. Es una noche muy especial y desde el Ayuntamiento de Ibiza pedimos que se disfrute con prudencia'.
To ensure safety, there will be a special device of the National Police and Civil Protection until the 2.00 hours and each beach will have an ambulance and lifeguard service. Volunteers from Ibiza and monitors from Espurna will also collaborate.
Nit de Sant Joan 2022
Thursday 23 June 2022
Beaches of Ses Figueretes (starting from the 18 hrs.) and Talamanca (starting from the 20:30 hrs.)
Artisans can participate for free
Do you want to know the Ibiza culture and leisure agenda?
Ibiza-Click.com
IBIZA'S MOST VISITED CULTURE AND LEISURE SITE
Vila City Council once again organizes the Nit de Sant Joan, with concerts, foguerons y degustación de los tradicionales macarrons de Sant Joan en las playas de ses Figueretes…