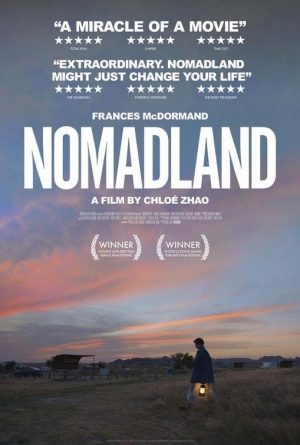 The Road Movie Nomadland is screened in the Friday cinema cycle, Can Jerome, on 15 October. A melancholic film, epic and loaded with sensitivity, winner of 3 Oscar awards: Best film, direction and actress (McDormand).
Este drama, dirigido por Chloé Zhao, basado en el libro de Jessica Bruder, nos cuenta cómo Una mujer, después de perderlo todo durante la recesión, se embarca en un viaje hacia el Oeste americano viviendo como una nómada en una caravana. Tras el colapso económico que afectó también a su ciudad en la zona rural de Nevada, Fern toma su camioneta y se pone en camino para explorar una vida fuera de la sociedad convencional, como nómada moderna.
Friday Film Series
Nomadland
Friday, 15 in October of 2021
20:00 hrs.
Can Jerome
Sant Josep de sa Talaia
Do you want to know the Ibiza culture and leisure agenda?
Ibiza-Click.com
IBIZA'S MOST VISITED CULTURE AND LEISURE SITE
The Road Movie Nomadland is screened in the Friday cinema cycle, Can Jerome, on 15 October. A melancholic film, epic and loaded with sensitivity, ganador de 3…