TRIANGLE OF SADNESS EN ZINÈTIC CINEMA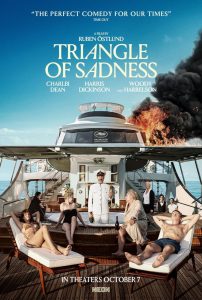 The Zinètic Cinema cycle programs its last session of this season on Thursday 23 March of 2023 at the Cine Regio the film 'Triangle of Sadness', de Ruben Östlund, an acid dramatic comedy that won the Palme d'Or at the Cannes Film Festival in 2022.
Nominated for Best Picture, Original Screenplay and Direction at the Oscars (although it left empty) and winner, among other Palme d'Or awards at Cannes, this new film by Swedish film director Ruben Östlund ("The Square", "Force Majeure") constitutes a scathing satire on the current cult of money that we suffer as a society.
An intelligent and darkly humorous film that criticizes the untenable class system of today's world by introducing us to the rich guests of a luxury cruise ship, in which events suddenly take an unexpected turn, reversing the balance of power.
A merciless satire of the wildest capitalism and its denizens that can be enjoyed on Thursday 23 March of 2023 at 20.30 hours at the Cine Regio de Sant Antoni in the original version subtitled in Spanish. The input costs 6 EUR.
Cinema Kinetic Cycle
'Triangle of Sadness', de Ruben Östlund
VOSE
Thursday 23 March of 2023
20:30 hrs.
Regal Cinema
C / Barcelona 5, San Antonio
Entry 6 EUR
Do you want to know the Ibiza culture and leisure agenda?
Ibiza-Click.com
IBIZA'S MOST VISITED CULTURE AND LEISURE SITE
The Zinètic Cinema cycle programs its last session of this season on Thursday 23 March of 2023 at the Cine Regio the film 'Triangle of Sadness', the Reuben…