HUG ME TIGHT WE'RE GOING TO THE CINEMA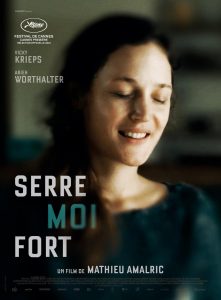 Lying in bed, Clarisse looks at the polaroids of her family and is immersed in the memories. She's alone in a hotel room. One day he decided to leave home, while leaving behind her husband and two children. The daughter continues to practice scales on the piano in the living room, and the husband and son continue to have lunch together.. reading concerns wither at the moment they pass to the E.S.O., the daily life of the family develops with the same normality as always after your absence, as if there was no party. While, Clarisse wanders alone through remote country lanes.

Nominada a Mejor Actriz (Krieps) y a Mejor Guión Adaptado en los Premios César de 2021, "Abrázame fuerte" ("Serre moi fort") es un drama escrito y dirigido por Mathieu Amalric, y basado en la obra "Je reviens de loin" de Claudine Galéa.
Más conocido en su faceta de actor en películas como "The Diving Bell and the butterfly", "El gran hotel Budapest" about "Marie Antoinette", Mathieu Amalric vuelve a dirigir en esta cinta incómoda y desconcertante que habla de las relaciones, the hope, la ausencia y la capacidad de autoengañarnos.
The film is shown on Thursday 2 February's 2023 at 20:30 hours in the cycle 'Let's go to the cinema' in the Multicines Ibiza. El film puede verse en VOSE.
Cycle Let's go to the cinema
'Abrázame fuerte', de Mathieu Amalric
Thursday 2 February's 2023
20:30 hrs.
Multicines Eivissa
Avenida de Es Cubells s / n, Ibiza
Entry 5 EUR
Do you want to know the Ibiza culture and leisure agenda?
Ibiza-Click.com
IBIZA'S MOST VISITED CULTURE AND LEISURE SITE
Lying in bed, Clarisse looks at the polaroids of her family and is immersed in the memories. She's alone in a hotel room. One day he decided to leave home,…