ALBERTO BURGUEZ BLUES TRIO IN IBIZA THEATER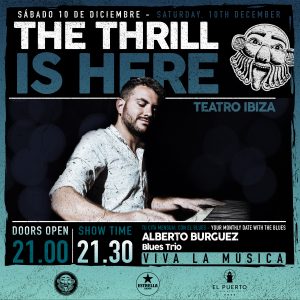 The Teatro Ibiza concert hall presents a new appointment from the cycle "The Thrill is Here", which brings in concert some of the best blues musicians in the country, this time it is with the Alberto Burguez Blues Trio.
La sala de conciertos Teatro Ibiza programa la séptima sesión de su ciclo "The Thrill is Here", que nos trae en concierto una vez al mes, cada segundo sábado del mismo, a grandes artistas del del circuito nacional de blues. En esta ocasión nos presentan al Alberto Burguez Blues Trio que tocará en Teatro Ibiza el sábado 10 December of 2022.
El compositor argentino reside desde hace pocos meses en Barcelona y actualmente está presentando su ultimo disco y trabajando como músico de sesión en diferentes grupos de la ciudad condal. Burguez es un artista polifacético con una gran influencia de la música de Nueva Orleans, algo evidente en sus composiciones, que fusionan blues, swing y boogie woogie, ofreciendo un show enérgico y vibrante, abierto a la improvisación.
Alberto Burguez cuenta con una larga trayectoria en diferentes festivales por América y Europa y ha tocado con artistas internacionales destacados, como James Bolden (Stevie Wonder, Issac Hayes, James Brown, Duke Ellington), Slam Allem, Tia Carrol o Jimmy Burns, among others.
The 'The Thrill is Here' initiative arises from a collaboration between Juangui Harmsen, head of Theater Ibiza, and drummer David Barona, habitual in the circuit of concerts of the island, which is responsible for co-producing the cycle.
Concierto Alberto Burguez Blues Trio
Ciclo The Thrill is Here
Saturday 10 December of 2022
21.00 hrs.
Theater Ibiza
Carrer de Carles III 24, 07800, Ibiza
Do you want to know the Ibiza culture and leisure agenda?
Ibiza-Click.com
IBIZA'S MOST VISITED CULTURE AND LEISURE SITE
The Teatro Ibiza concert hall presents a new appointment from the cycle "The Thrill is Here", which brings in concert some of the best blues musicians in the country,…