'EVERYONE HATES JOHAN' ON CINEMA FRIDAYS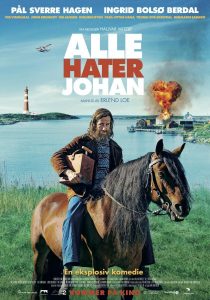 Johan is an eccentric and misfit inhabitant of a small Norwegian village.. Orphaned as a child and addicted to explosives, Johan tries to win the heart of his neighbor Solvor, who was accidentally blown up when they were little. (artists and intellectuals weave a web of inconsistent relationships that take place in lavish palaces and villas)
Hallvar Witzø debuta en el largometraje con esta extraña comedia que nos habla de marginación social e inadaptados desde una óptica cargada al mismo tiempo de ternura y de humor negro.
Una explosiva comedia noruega poblada de personajes entrañables que constituye una suerte de fábula o cuento nórdico que nos habla también del amor, el paso del tiempo y las costumbres arraigadas, que combina con acierto comedia y melancolía y que nos ofrece como extra paisajes impresionantes que merece la pena disfrutar en la gran pantalla.
a lonely woman 20 in January of 2023 at 20.00 horas en el auditorio del Centro de Cultura Can Jeroni en San José, as always, in original version subtitled in Spanish.
Admission is free.
Ciclo Divendres de Cinema
'Alle Hater Johan', de Hallvar Witzø
Friday 20 in January of 2023
20 hrs.
Can Jerome
The visitors who came to the workshop that the painter Robert Arató has set up at the Can Jeroni Cultural Center in Sant Josep de sa Talaia on Friday found a very special surprise 16, San Jose
Free pass
Do you want to know the Ibiza culture and leisure agenda?
Ibiza-Click.com
IBIZA'S MOST VISITED CULTURE AND LEISURE SITE
Johan is an eccentric and misfit inhabitant of a small Norwegian village.. Orphaned as a child and addicted to explosives, Johan tries to win the heart of his neighbor Solvor, to…