BACK TO SCHOOL FESTIVAL, TENTH EDITION IN SANT JORDI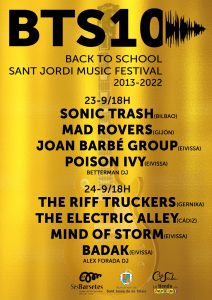 Back to School Festival celebrates its tenth edition with two days of rock in Sant Jordi with performances by eight groups, of the Peninsula and the island, and two DJs.
El Ayuntamiento de Sant Josep de sa Talaia y la Asociación Cultural Ses Barsetes organizan la décima edición del festival Back to School, que por primera vez se amplía a dos días, apostando por un cartel cargado de rock contundente y de calidad, con bandas locales y llegadas de la Península.
El festival se celebra el fin de semana del viernes 23 and Saturday 24 de septiembre en el centro de Sant Jordi, con ocho grupos y dos Djs. In the presentation, Felipe Ruiz, de la Asociación Cultural Ses Barsetes ha declarado cómo el BTS «ha animado el final del verano en Sant Jordi de la mejor manera, con buena música en un festival caracterizado por el buen ambiente y el reencuentro con los amigos que cuesta ver durante la vorágine de la temporada, este es un festival que hace pueblo».
El viernes y el sábado la música arrancará a las 18.00 horas y se prolongará hasta medianoche, con cuatro bandas visitantes y cuatro locales.
CRiC Ses Salines se encarga de la comida y la ONG Ibiza IN, que lucha por la inclusión de las personas con diversidad funcional racaudará fondos con la venta de postres para continuar su labor.
The Friday, 23 September, los cabeza de cartel serán los asturianos Mad Rovers, banda nacida hace seis años con un estilo muy guitarrero, junto con Sonic Trash (Bilbao), con dos décadas de trayectoria y tres discos grabados. Las encargadas de abrir la velada son las ibicencas Poison Ivy, banda liderada por Silvia San con Silvia Coca y Elena Exenberger. También se presenta 'Quorum', el segundo disco en solitario del multiinstrumentista Joan Barbé, que deja momentáneamente Joven Dolores y compartirá escenario con una banda formada por él mismo, Rafael Garcés al piano y saxo, Aarón Puente al bajo, Joan Carles Marí a la batería, Vicent Tur al trombón y Santiago Ramírez a la trompeta. Entre actuaciones estará pinchando Betterman D.
BTS apuesta por la música de raíz americana su segunda velada con The Riff Truckers, grupo creado en Guernika en 2005, y The Electric Alley (Cádiz), que ya pasaron por la isla hace tres años con su potente directo. In addition, completan el cartel dos grupos ibicencos: Mind of Storm, formados el 2021 con un estilo muy influenciado por el rock alternativo de los 90, y Badak, grupo de músicos veteranos de la escena metalera ibicenca. El encargado de que no decaiga la música entre actuaciones será el Dj Alex Forada.
Los conciertos son gratuitos.
Back to School Festival
Friday 23 and Saturday 24 September of 2022
Starting from the 18.00 hrs.
Saint George
Artisans can participate for free
Do you want to know the Ibiza culture and leisure agenda?
Ibiza-Click.com
IBIZA'S MOST VISITED CULTURE AND LEISURE SITE
Back to School Festival celebrates its tenth edition with two days of rock in Sant Jordi with performances by eight groups, of the Peninsula and the island, and…