G MEN CONCERT IN CHILDREN OF THE 80'S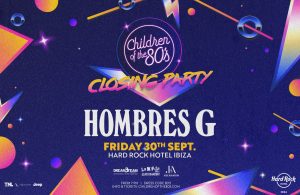 The legendary group Hombres G will put the finishing touch to the season of 2022 of the Children of the 80's party at Hard Rock Hotel Ibiza.

Summer is coming to an end, and after another great season, Hard Rock Hotel Ibiza celebrates the Children of the 80's closing party with an exceptional performance, the one from the group Hombres G.
This band led by David Summers was a true Spanish musical icon on the eighties scene, y estará en concierto en Ibiza el viernes 30 September of 2022, con la única actuación del grupo que llega de triunfar en su reciente gira por EEUU y después del estreno de su película homenaje "Voy a pasármelo bien".
The famous band is the creator of hits as memorable as "Give me back my girl", "I feel fine" or "Marta has a pacemaker", among many others.
Accompanying them on the stage of Hard Rock Hotel Ibiza will also be the DJs of DREAM3TEAM RELOAD and La Movida Ibiza.
Tickets can be purchased from 20 euros en la web de 'Children of the 80's'. This last event will start at 19.00 horas y se prolongará hasta la medianoche.
'Children of the 80's' ha celebrado 20 eventos en esta temporada 2022, con la visita de grandes artistas como Spagna, Kate Ryan, Rozalla, Barbara Tucker o Vicky Larraz, que han hecho bailar al público con los grandes éxitos de la década de los 70, 80 and 90.
Concierto de Hombres G
Closing Party de Children of the 80's
Friday 30 September of 2022
Starting from the 19.00 hrs.
Hard Rock Hotel Ibiza
Playa d'en Bossa

Do you want to know the Ibiza culture and leisure agenda?
Ibiza-Click.com
IBIZA'S MOST VISITED CULTURE AND LEISURE SITE
The legendary group Hombres G will put the finishing touch to the season of 2022 of the Children of the 80's party at Hard Rock Hotel Ibiza. El verano se acerca…