VI PAGÉS FESTIVAL OF SANT MATEU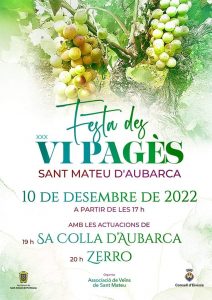 Sant Mateu d'Aubarca organizes the XXX edition of its popular Festa des Vi Pagès, after two years of hiatus due to the pandemic.
Saturday 10 December of 2022 The Festa des Vi Pagès de Sant Mateu d'Aubarca or Payés de San Mateo Wine Festival is celebrated again, that celebrates its XXX edition after the break during the pandemic years.
It is an appointment that marks the culmination of the process of elaboration of Ibizan or payés wine, a heritage product of the Phoenician era, when the island of Ibiza was a commercial power that had one of its star products in this drink.
the day, organized in collaboration with the Sant Mateu Neighborhood Association, starts at 17.00 hours and in it the residents of the town and visitors can taste the different wines accompanied by grilled meat, sobrasadas and other traditional sausages while enjoying a good atmosphere and music.
The party will feature performances by sa Colla d'Aubarca and the singer and guitarist Zerro, artistic name of Jaime Cerrolaza, Madrid-born artist who has lived in Ibiza for years.
XXX Festa des wine peasants of Sant Mateu
Saturday 10 December of 2022
Starting from the 17.00 hrs.
Matthew Aubarca
Do you want to know the Ibiza culture and leisure agenda?
Ibiza-Click.com
IBIZA'S MOST VISITED CULTURE AND LEISURE SITE
Sant Mateu d'Aubarca organizes the XXX edition of its popular Festa des Vi Pagès, after two years of hiatus due to the pandemic. Saturday 10 December of 2022 Come back…