THE FEAST, CHILDREN'S THEATER FESTIVAL IN SANT JORDI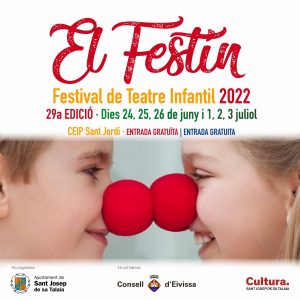 The feast, Children's Theater Festival, celebrates its 29th edition on the weekends of 24 to the 26 June and 1 to the 3 July of 2022, as always in Sant Jordi.
El Ayuntamiento de Sant Josep de sa Talaia organiza la XXIX edición del Festival de Teatro Infantil El Festín, el más veterano de la isla y uno de los más antiguos de Baleares, que este año recupera su funcionamiento habitual, ya sin ningún tipo de restricción.
El técnico de Juventud Silverio Martín 'Guisante', alma mater de este festival cultural nacido hace 30 years, explicó en la presentación que este año ha «intentado recuperar el formato que hemos mantenido casi durante tres décadas, de hecho si no hubiera sido por la pausa obligada de la pandemia ésta habría sido la edición que hace 30. Todas las compañías que vendrán nos han hecho llegar que tienen muchas ganas de estar, después de la etapa oscura que hemos pasado los últimos dos años, and, como los artistas, queremos recuperar el entusiasmo y la inocencia con que miran los niños todo el que pasa en el escenario», ha añadido.
The feast 2022 son seis días de espectáculos infantiles y para todos los públicos en los que se podrán ver los montajes de compañías llegadas de Barcelona (seis montajes), Mallorca, Valencia y Granada para llevar a escena un total de 19 shows, teniendo en cuenta que ocho espectáculos son de cinco compañías ibicencas, con Musicaldansa participando en tres montajes distintos.
'Guisante' ha explicado también que parte de la experiencia de El Festín consiste en «llevar a escena espectáculos de compañías de fuera y de la isla, especially school montages, para que los más pequeños y pequeñas compartan la experiencia de los artistas que acumulan años sobre los escenarios y se encuentren todos juntos entre bambalinas».
El festival se celebra en el CEIP Sant Jordi y la entrada a todos los espectáculos es gratuita.
The feast, Children's Theater Festival
24, 25 and 26 June and 1, 2 and 3 July of 2022
CEIP Sant Jordi
Carretera del aeropuerto s/n, Saint George
Free pass
Do you want to know the Ibiza culture and leisure agenda?
Ibiza-Click.com
IBIZA'S MOST VISITED CULTURE AND LEISURE SITE
The feast, Children's Theater Festival, celebrates its 29th edition on the weekends of 24 to the 26 June and 1 to the 3 July of 2022, as…