POPULATION GROUPS TO BE VACCINATED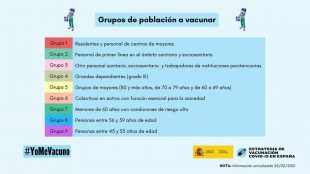 The Department of Health and Consumption of the Balearic Government has already completed the vaccination of the first group that was scheduled and that includes users and professionals of nursing homes for the elderly and people with disabilities, and soon the second group will end, encompassing frontline healthcare professionals against COVID-19.
La estrategia España establece que, teniendo en cuenta la disponibilidad progresiva de dosis, es necesario realizar un ejercicio de priorización teniendo en cuenta principios éticos y criterios de riesgo. Baleares se prepara para abordar la vacunación de COVID-19 a grandes grupos de población a partir de marzo.
Se ha planificado que la vacunación de las personas de más de 80 years (subgrupo 5A) se iniciará a principios del mes de marzo y en las mismas fechas también serán vacunados los miembros de las policías locales, de las fuerzas de seguridad del Estado y de los cuerpos de bomberos y de docentes, integrados en el grupo 6.
Para vacunar a todos los grupos de población pendientes se requerirán nuevas herramientas al alcance de los usuarios. Por ello se pondrá a su disposición el teléfono Infovacuna COVID, que entrará en funcionamiento la próxima semana, para responder las dudas relacionadas con el Plan de Vacunación. La atención telefónica en este número será coordinada por la Central de Coordinación para la COVID-19 y las llamadas serán atendidas por técnicos sanitarios, como se hace en los recursos InfoCOVID e InfoCOVID Pediátrico.
Likewise, la próxima semana el Servicio de Salud también pondrá a disposición de los ciudadanos una web con toda la información práctica del Plan de Vacunación: diferentes vacunas que se reciben, features, grupos de vacunación, vacunas administradas, etc.
#YoMeVacuno
Do you want to know the Ibiza culture and leisure agenda?
Ibiza-Click.com
IBIZA'S MOST VISITED CULTURE AND LEISURE SITE
La Consellería de Salut i Consum del Govern Balear ya ha terminado la vacunación del primer grupo que estaba programado y que incluye a los usuarios y a los profesionales…