LOVE IS LOVE: IBIZA GAY PRIDE 2017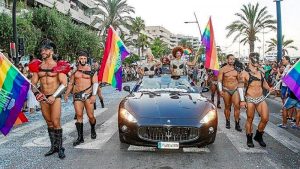 Of the 14 to the 17 June 2017 the third edition of Gay Pride Ibiza this year consolidates its program of cultural and information events on the LGBT community in order to be a contest aimed at all audiences held to involve the whole island of Ibiza. This is a festival where men and women come together to enjoy and put aside differences and want love and happiness to everyone.
The director of the Gay Pride Ibiza 2017 and president of the Association of LGBT Ibiza, Antonio Balibrea, will "an opportunity to integrate our collective rights and to promote responsible sexual education". The program includes two lectures, taking place on Friday, 16 June at the Plaa Anotoni Albert i Nieto, aimed at families: 'Homosexuality family' and 'Sexually transmitted diseases' in charge of Angélica Barrios and Asunción Pablos, respectively.
In addition, the psychologist Gabriel J. Martin, author of "Quiérete much fag' It offers a symposium which will present the main ideas in his new book, 'The cycle of love Marica', in which it addresses all possible sentimental situations where a gay man can be seen throughout his life. The talk will take place on Thursday 15 June to the 20.00 hours in the tent of Ibiza Gay Pride to be installed in Vara de Rey.
In addition, Ibiza Gay Pride festivals recovers Café Olé, with the Dj Cris Becker, of the former and legendary Space nightclub to be held at Privilege on Thursday 15 June; and 'We Party', the biggest party of the gay world of hand Dj Phil Romano and will be the first day of the festival, on Wednesday 14 June at Ushuaïa, after four years of absence from the scene 'clubbing' of the island.
The Association of Artesans d'Eivissa is Juvert also contribute to the LGBT cause with the craft exhibition officially produced on the island under the title 'Duality: Tradition + Modernity = Watch what you love' which can be visited in the cloister of the City of Ibiza during the four days of Ibiza Gay Pride.
The festival will also feature the representation of the play 'Chronicle of-function announced' of es Devessai, directed by Alejandro Torres and Borja Moya, with the collaboration of the company Acrobatic-K. The work will be performed at Can Ventosa on Wednesday 14 at 21.00 hrs..
I could not miss the traditional protest march, that will end the festival, and will take place on Saturday 17 June to the 19.30 hrs.. Part of the Fishermen's Association, passes through Santa Eulària Avenue and ends on stage to be installed in the Martell where the manifesto will be read with the slogan 'Love and respect'. Below is a festival that will feature performances of the singer will be held Mimi Barber, Dj Cheche Ibiza, Suki The bear y Lorena Ares, Besides the special participation Baby Marcelo.
Ibiza-Click.com
IBIZA'S MOST VISITED CULTURE AND LEISURE SITE
Of the 14 to the 17 June 2017 the third edition of Gay Pride is celebrated Ibiza this year consolidates its program of cultural and information events on the…