III SANTA EULÀRIA DES RIU CHAMBER MUSIC FESTIVAL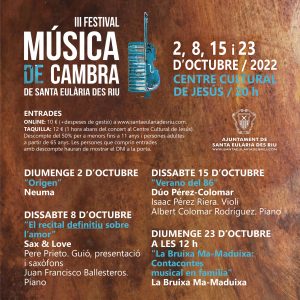 The Cultural Center of Jesus will host in October 2022 three concerts and a musical family story-telling with the celebration of the III Chamber Music Festival of Santa Eulària des Riu.

El Centro Cultural de Jesús acoge una nueva edición del Festival de Música de Cambra de Santa Eulària des Riu durante el mes de octubre de 2022, un encuentro bienal coordinado por la reconocida pianista ibicenca Elvira Ramon. La tercera edición del festival mantiene el nivel de exigencia y calidad de sus ediciones anteriores, mientras intenta también ampliar su público sumando a los tres conciertos habituales un cuentacuentos musical en familia como broche final.
El festival se celebra los días 2, 8 and 15 in October of 2022 en sesiones a las 20.00 hrs..
El primer recital el domingo 2 de octubre corre a cargo del cuarteto femenino de viento 'Neuma', formado por intérpretes que aúnan juventud con una formación exquisita y una gran experiencia.
Los otros dos conciertos están protagonizados por músicos ibicencos y baleares. El saxofonista Pere Prieto y el compositor y pianista Juan Francisco Ballesteros protagonizan la sesión titulada 'El recital definitiu sobre l'amor' el sábado 8 October. Saturday 15 de octubre el violinista local Isaac Pérez Riera y el pianista mallorquín Albert Colomar Rodríguez ofrecen su concierto 'Verano del 86'.
El festival concluye el domingo 23 de octubre con una sesión matinal a las 12:00 pensada para familias con La Bruixa Ma-Maduixa: Contacontes musical en família', un cuento musicado original y divertido que conjuga texto y música y que pretende introducir a los más pequeños en la magia de la música de cámara. Está interpretado por 'La Bruixa Ma-Maduixa', alter ego de la profesora de música y pedagoga Cristina Llabrés y contará con una vertiente participativa.
Las entradas están a la venta en las webs www.visitsantaeulalia.com, www.festivalbarruguet.com y www.santaeulariadesriu.com. La entrada de cada concierto cuesta 10 euros más los gastos de gestión comprándola online de forma anticipada y 12 euros at the box office (desde una hora antes del concierto). Hay un descuento del 50% for children of 11 años y para los mayores de 65 years.
III Festival de Música de Cambra de Santa Eulària des riu
Centro Cultural de Jesus
2, 8, 15 and 23 October 2022
20.00 hrs., salvo 23 of October to las 12.00 hrs.
in the words of playwright Juan Carlos Rubio 10 EUR, at box office 12 EUR
Do you want to know the Ibiza culture and leisure agenda?
Ibiza-Click.com
IBIZA'S MOST VISITED CULTURE AND LEISURE SITE
The Cultural Center of Jesus will host in October 2022 tres conciertos y un cuentacuentos musical en familia con la celebración del III Festival de Música de Cambra de Santa…