DO YOU REMEMBER EN PRIVILEGE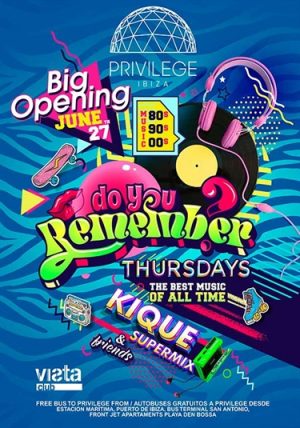 From 27 June, every Thursday Do You Remember It is the new residence Vista Club, Privilege Ibiza. A commitment to music of all time and for all. A party that reviews the great successes of several times ...
The soundtrack Do You Remember se ocupan Kique Supermix and friends, performing a selection of the best songs in updated versions, remixes and original for public dancing all night.
Spandau Ballet, Queen, Earth Wind and Fire, Michael Jackson, ACDC, James Brown, U2, The Clash, Simple Minds, Pink Floyd, Barry White, Diana Ross, Tears for Fears, Guns and Roses ... are some of the groups whose musical successes sounded Thursday in Do You Remember. Besides the best house of all time where the sound will not miss Chicago.
In addition, Kique Supermix will be accompanied by other DJ, US vocal performances and instrumentalists who put their memories touch of the great classics of the party.
Ibiza-Tickets.com
Click & Go!
From 27 June, todos los jueves Do You Remember es la nueva residencia en Vista Club, Privilege Ibiza. Una apuesta por la música de todos los tiempos…