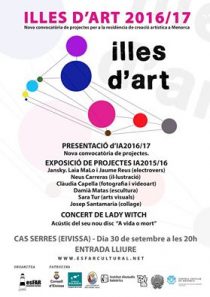 The Friday, 30 September, at 20.00 hours is presents in Ibiza the new residence of creation artistic Illes d'Art with an exhibition of projects and a concert in acoustic of the singer and songwriter Lady With (Monica Lopez Chicano) presenting her album "to life or mort"
The appointment, that has place in the Auditorium of Cas Serres, It also serves call to present new projects for the new residence of artistic creation Illes d'art 2016/17 It will take place in Es Mercadal, Menorca, of the 18 to the 28 November of 2016.
Also, an exhibition of the work done in the Illes d'Art project is presented 2015/16, that include works of the artists: Jansky, James Martino and Laia Reus, Neus racing, Claudia Capella, Damia Matas, Josep Santamaria and Ibizan Sara Tur . The call is aimed at older artists 18 years resident or natural in any island of the Mediterranean and open to all the disciplines art: dance, music, painting, photography, Visual Arts, sculpture...
This collective is born with the vocation of social and cultural revitalization through values of singularity, identity and heritage. They work from the hand of the territory and its people with the intention of promoting art, culture, associations, promote the exchange of values and work on the recovery of spaces for reflection and criticism.
+ INFO: esfarcultural.WordPress.com
Ibiza-Click.com
The culture and Ibiza most visited entertainment portal
The Friday, 30 September, at 20.00 Ibiza hours is presented in the new residence of artistic creation Illes d'Art with an exhibition of projects and a concert in…