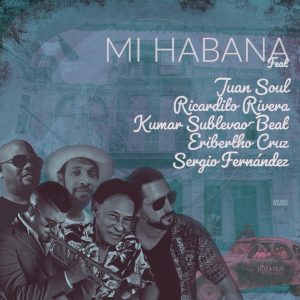 The ALMA disc, de Juan Soul, is an album with ten songs of different styles and for all audiences whose release is scheduled for next spring. Some songs are already available on music platforms.
The musician, Canarian dj and producer based in Ibiza Juan Soul is determined to launch the best Caribbean and Latin sounds from our island. Last December he presented the song 'My Black', in which he had the collaboration of the singer Ricardito Rivera. Now he presents the single Mi Habana, In which Ricardito also collaborates as a singer in addition to other greats of the Caribbean music scene such as Eribertho Cruz from 'Alma Cubana' on voice and percussion, Kumar Sublevao-Beat on rapping and Sergio Fernandez from 'Tonny Succar Band' on trumpet.
The song 'My Havana' is a fusion of cha cha cha, they are cuban, latin jazz, boogaloo and hip-hop. The presentation video clip reviews various places where different locations on the island have been recorded., from the airport to las salinas, Platja d'en Bossa or Sant Antoni, passing through some establishments where the group appears performing. You can also see different phases of the production process within Juan Soul's own studio, 'Dakarai Records'.
'My Havana' and 'My Black' are the two previews of Juan Soul's new album, titled SOUL (Afro LatIn Mambo) and that it is expected to see the light next 1 June. In addition, To make it more enjoyable, the Canarian musician plans to launch the 20 march a new single, 'You know'.
As soon as the nightmare that we are living with the pandemic passes, we will be able to enjoy good live music again and artists committed to quality and professionalism like those in question..
Naomi Osaka
Do you want to know the Ibiza culture and leisure agenda?
Ibiza-Click.com
IBIZA'S MOST VISITED CULTURE AND LEISURE SITE
The ALMA disc, de Juan Soul, is an album with ten songs of different styles and for all audiences whose release is scheduled for next spring. Algunas canciones…