CECE ROGERS EN CHILDREN OF THE 80'S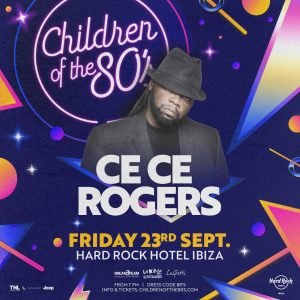 The popular Children of the 80's retro party at Hard Rock Hotel Ibiza features a performance by house legend CeCe Rogers on Friday 23 September of 2022.
Cantante, músico y productor discográfico, CeCe Rogers (USA – Cleveland, Ohio) es una auténtica leyenda musical y está considerado uno de los fundadores de la música house junto a artistas como Marshall Jefferson, Ten City, Joe Smooth o Frankie Knuckles, among others. Su apodo CeCe se lo dio nada menos que James Brown cuando presenció su actuación con 11 años imitando a Chubby Checker.
Este artista icónico, uno de los más respetados y apreciados cantantes de house, estará actuando en la fiesta Children of the 80's del viernes 23 September of 2022, una popular cita que rinde tributo a los artistas y la música de los años 80 and 90.
CeCe Rogers es creador de temas tan recordados como "No Love Lost", "Someday" about "All Join Hands", consideradas verdaderos clásicos del house.
En la fiesta estarán también, as always, los Djs residentes Jose María Castells, Toni Peret and Quique Tejada, del Dream3Team Reload y Petit y Vazquez de La Movida de Ibiza. Para completar el ambiente, Lugotti tocará el saxo en directo y Passion Dance y Performance Lab ofrecerán sus vistosos bailes y animaciones.
Lo habitual es vestir un dress code ochentero para la fiesta, a juego con su temática.
The party starts at 19.00 horas y los residentes pueden entrar gratis hasta las 21:00 horas enseñando el DNI o certificado de residente.
CeCe Rogers
Children of the 80's
Friday 23 September of 2022
Starting from the 19.00 hrs.
Hard Rock Hotel Ibiza
Playa d'en Bossa
Residentes gratis hasta las 21.00 hrs.
Do you want to know the Ibiza culture and leisure agenda?
Ibiza-Click.com
IBIZA'S MOST VISITED CULTURE AND LEISURE SITE
La popular fiesta retro Children of the 80's en Hard Rock Hotel Ibiza cuenta con una actuación de la leyenda del house CeCe Rogers el viernes 23 September of…