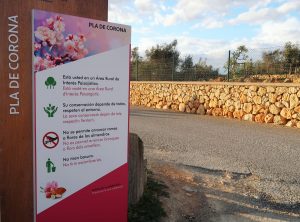 The Sant Antoni City Council launches a special device during the weekends for those who are going to visit Santa Agnès de Corona on the occasion of the flowering of the almond trees.
Para controlar la afluencia de visitantes al Pla de Corona, durante los fines de semana starting from the 22 in January of 2022 habrá un operativo formado por Policía Local y Protección Civil of 10 to 18 hrs..
El dispositivo, que también servirá para regular el tráfico, informar sobre medidas de seguridad Covid y dar servicio a los visitantes, se mantendrá durante un mínimo de tres fines de semana, durante el tiempo que dure la espectacular floración de los almendros.
Los vehículos solo podrán estacionar en los aparcamientos habilitados y los agentes evitarán que lo hagan en arcenes de las carreteras o fincas o terrenos privados. También recordarán la prohibición de arrancar ramas o flores de los almendros.
Este es el segundo año que se monta este dispositivo, pensado para recordar a los visitantes la importancia de respetar este hermoso enclave natural. In addition, ante cualquier incidencia, los vecinos pueden dirigirse a la carpa que estará instalada en el aparcamiento o llamar al teléfono +34 971 340 830.
Do you want to know the Ibiza culture and leisure agenda?
Ibiza-Click.com
IBIZA'S MOST VISITED CULTURE AND LEISURE SITE
El Ayuntamiento de Sant Antoni pone en marcha un dispositivo especial durante los fines de semana para quienes vayan a visitar Santa Agnès de Corona con motivo de la floración…