EXHIBITION: THE ROLLING STONES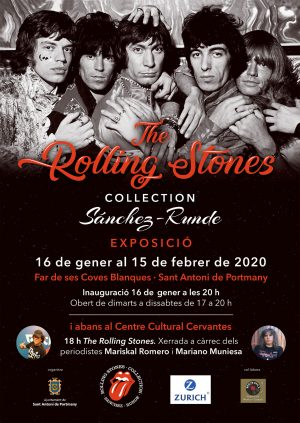 Framed in the acts of the festivities of Sant Antoni de Portmany, Retro from the cultural association has prepared a talk by Mariskal Romero and Mariano Muniesa, as well as a new exhibition on the British rock band The Rolling Stones.
Cervantes Cultural Center in, on Thursday, 16 from January to the 18:00 hrs., He will talk about the mythical London band in a talk by Mariskal Romero, atualidad runs in the magazine 'The Heavy' and the internet portal Mariskalrock.com, besides delighting with I Decalogue Mariskal, en Rock FM y del periodista Mariano Muniesa, who has written eight books on The Rolling Stones.
On Thursday, at 20:00 hrs., Opens, in Faro de ses Coves balnques, Also in Sant Antoni the new exhibition on British formation formed by 200 pieces, between them, Ron Wood guitar and gold records and platinum and unique memorabilia. A sample is part of the personal collection of Alberto Sánchez-Runde, Barcelona settled in Ibiza, He has compiled throughout his life hundreds of pieces of this mythical group, which first come to light.
This exhibition is organized by the City of Sant Antoni, It is in collaboration with the Association Musician-Cultural Retro and Zurich Insurance Company. It will be open to the public from the 16 January Tuesday to Saturday 17.00 to 20.00 hrs..
Ibiza-Click.com
IBIZA'S MOST VISITED CULTURE AND LEISURE SITE
Framed in the acts of the festivities of Sant Antoni de Portmany, desde la asociación cultural Retro se ha preparado una charla a cargo de Mariskal Romero y de…