#IBIZAESTRELLADA IN E-BOOK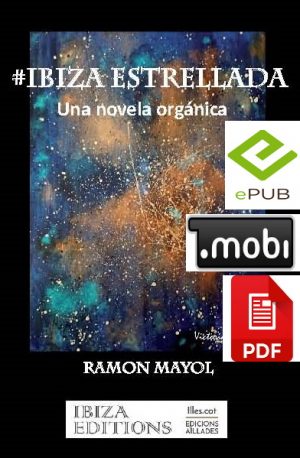 The first novel Ramon Mayol, #IbizaEstrellada. A novel organic (Ibiza Editions, 2019), It is now available in digital format: pdf, .mobi y EPUB. A year later published the first printed edition, It can now be achieved both Amazon and ILLES.cat

#IbizaEstrellada. A novel organic It can be achieved in the literary Platform ILLES.cat:
https://www.ibizaeditions.com/producto/ibizaestrellada-e-book/
and also on Amazon:
https://www.amazon.es/IbizaEstrellada-Una-novela-org%C3%A1nica-Anacr%C3%A8ptica-ebook/dp/B0846QG2G6/ref=sr_1_1?__mk_es_ES=%C3%85M%C3%85%C5%BD%C3%95%C3%91&keywords=%23ibizaestrellada&qid=1582874208&sr=8-1
Both sites, the price is of 03,90 €
This is a critical metaphor as short and original novel where underlying background analysis of human behavior. The plot takes place in different locations: Madrid, Barcelona, Prague, Lanzarote ... also in Ibiza and tells the story, original and entertaining Fernando, Matilde, his first wife and current partner Luz. All, enveloped in an atmosphere which traps, where cats are also protagonists ... De background, Ibiza just, unavoidably, Starry.
The cover image has been made by the Madrid artist settled in Ibiza Victoria Arenal. The novel is part of the collection of narrative Anacrèptica Ibiza Editions has started and can also be obtained in printed form.
The first edition of the novel appeared in Ibiza in February 2019 and after a few weeks I had to launch a second edition, which he was presented in Palma one year ago, in an act, presented by journalist and professor, Peter Estelrich, enmarcado en los actos del Día de les Illes Balears.
#IbizaEstrellada
Ibiza-Click.com
IBIZA'S MOST VISITED CULTURE AND LEISURE SITE
The first novel Ramon Mayol, #IbizaEstrellada. A novel organic (Ibiza Editions, 2019), It is now available in digital format: pdf, .mobi y EPUB. Un año más tarde de publicarse la…