PRESENTATION OF SEA CRITS, POEMARY OF IOLANDA BONET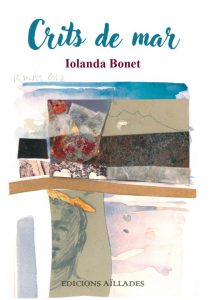 The Municipal Library of Can Ventosa hosts the presentation of 'Cries of the Sea', the new poem book published by the writer Iolanda Bonet in the collection Waves of Poetry by the publisher Edicions Aïllades.
On Thursday 19 in January of 2023 at 20:15 horas se presenta el nuevo poemario de la escritora ibicenca Iolanda Bonet 'Crits de Mar' en la Biblioteca Municipal de Can Ventosa.
'Crits de Mar', que forma parte de la colección Ones de poesia de Edicions Aïllades, es un poemario que nos presenta un mar tan poético como mediterráneo, pero que también puede ser causa de luto. Like this, el libro combina poemas más ligeros con otros que nos hablan de la soledad, la lejanía o el olvido, esos pequeños vacíos de la existencia.
Las ilustraciones de la portada y el interior son de la artista Rita Bretones y uno de los poemas del libro, "Eulària", ha sido musicado por Mon&MarCel.
'Crits de Mar' es el libro número 29 de la escritora y profesora Iolanda Bonet (Ibiza, 1955), ganadora de diversos premios literarios, como el Premi de la Nit de Sant Joan, el Premi de Narrativa Infantil Ciutat d'Eivissa o el Premi de relat Joan Castelló Guasch.
La presentación corre a cargo de otro poeta ibicenco, Bartomeu Ribes, a quien acompañarán la propia autora y el editor, Ramon Mayol. También está prevista la lectura de algunos poemas por parte de Carles Fabregat, Neus Cardona, Montse Montes y Xesús Ballesteros, además de una breve actuación musical acústica de Mon&MarCel.
La presentación está abierta al público y es con entrada gratis.
El libro se puede adquirir en librerías y en la librería virtual de la editorial, in www.illes.cat.
Presentación poemario 'Crits de Mar'
Thursday 19 in January of 2023
20.15 hrs.
Windy Can library
Avinguda d'Ignasi Wallis, 26, 07800, town
Entry libre
Do you want to know the Ibiza culture and leisure agenda?
Ibiza-Click.com
IBIZA'S MOST VISITED CULTURE AND LEISURE SITE
La Biblioteca municipal de Can Ventosa acoge la presentación de 'Crits de Mar', el nuevo poemario publicado por la escritora Iolanda Bonet en la colección Ones de Poesia de la…